This was the first piece I bought, back in the Sixties. It's by Duggie Fields, who fashion stylist Chelita Secunda introduced me to. She took me to his studio and I fell in love with this. I didn't have the money to pay, so I just gave a deposit. Duggie came round to try to get it back, but when he saw how well it worked, we negotiated and he became a very close friend.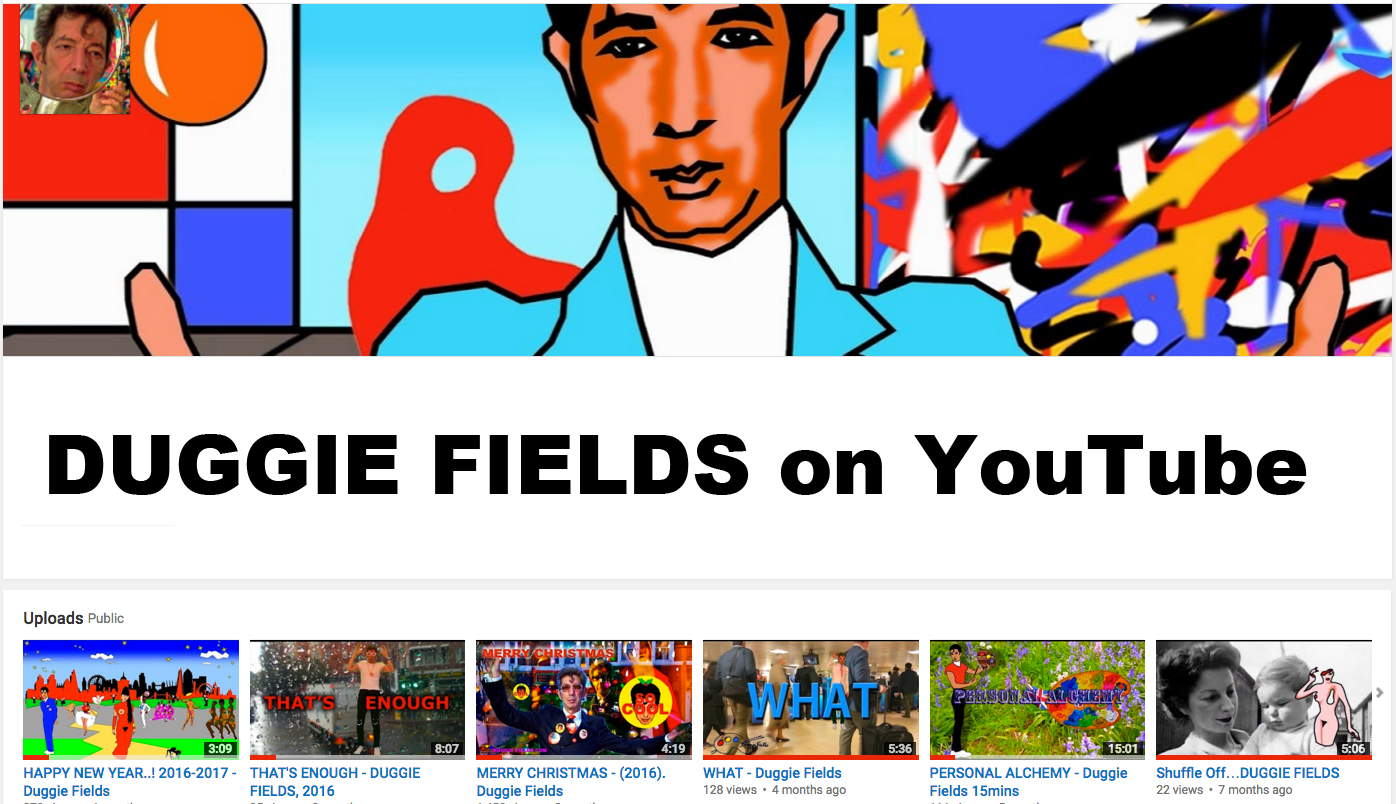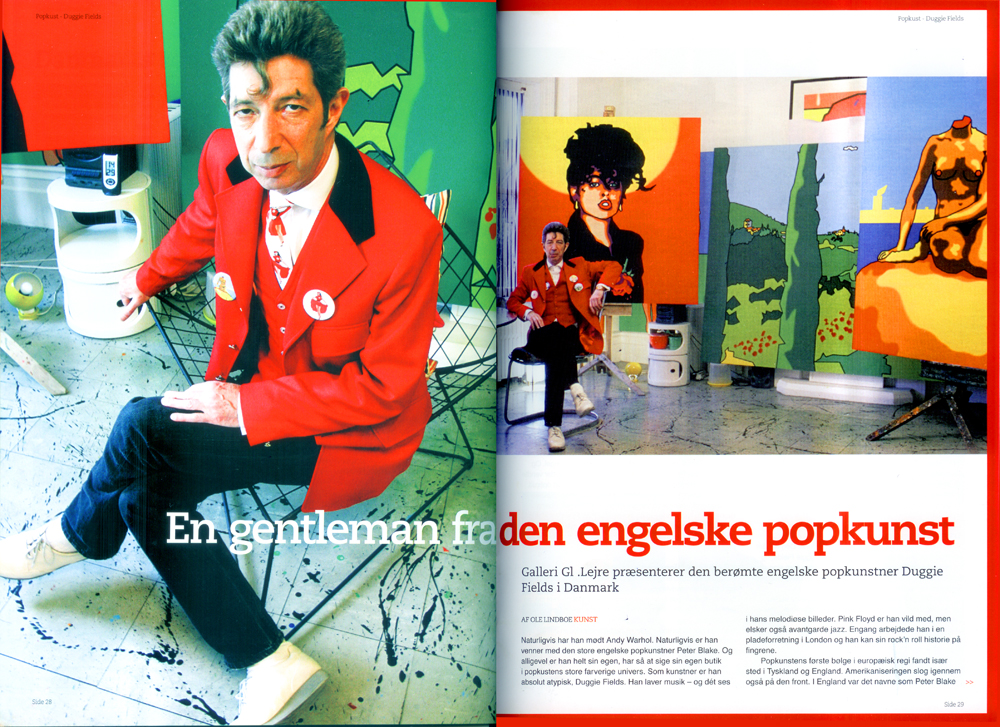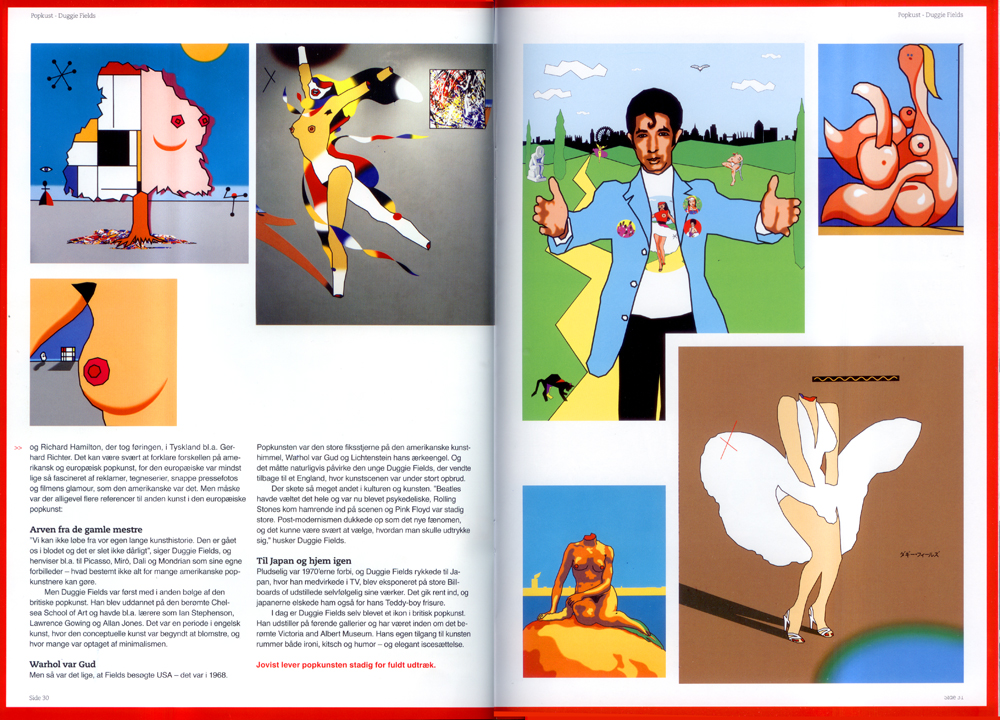 KUNST Magazine, no 5 2008, Denmark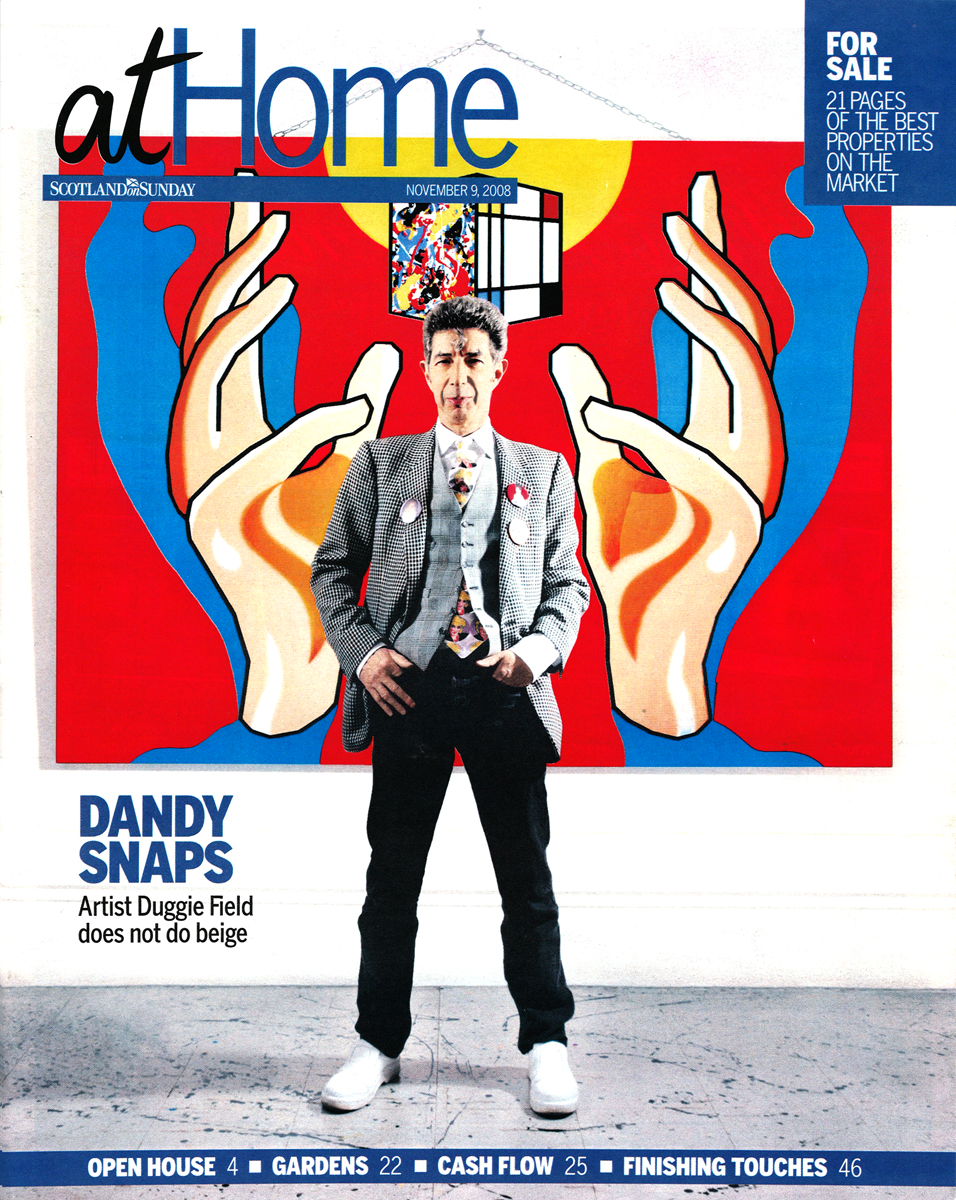 SCOTLAND-ON-SUNDAY Magazine, 9:11:2008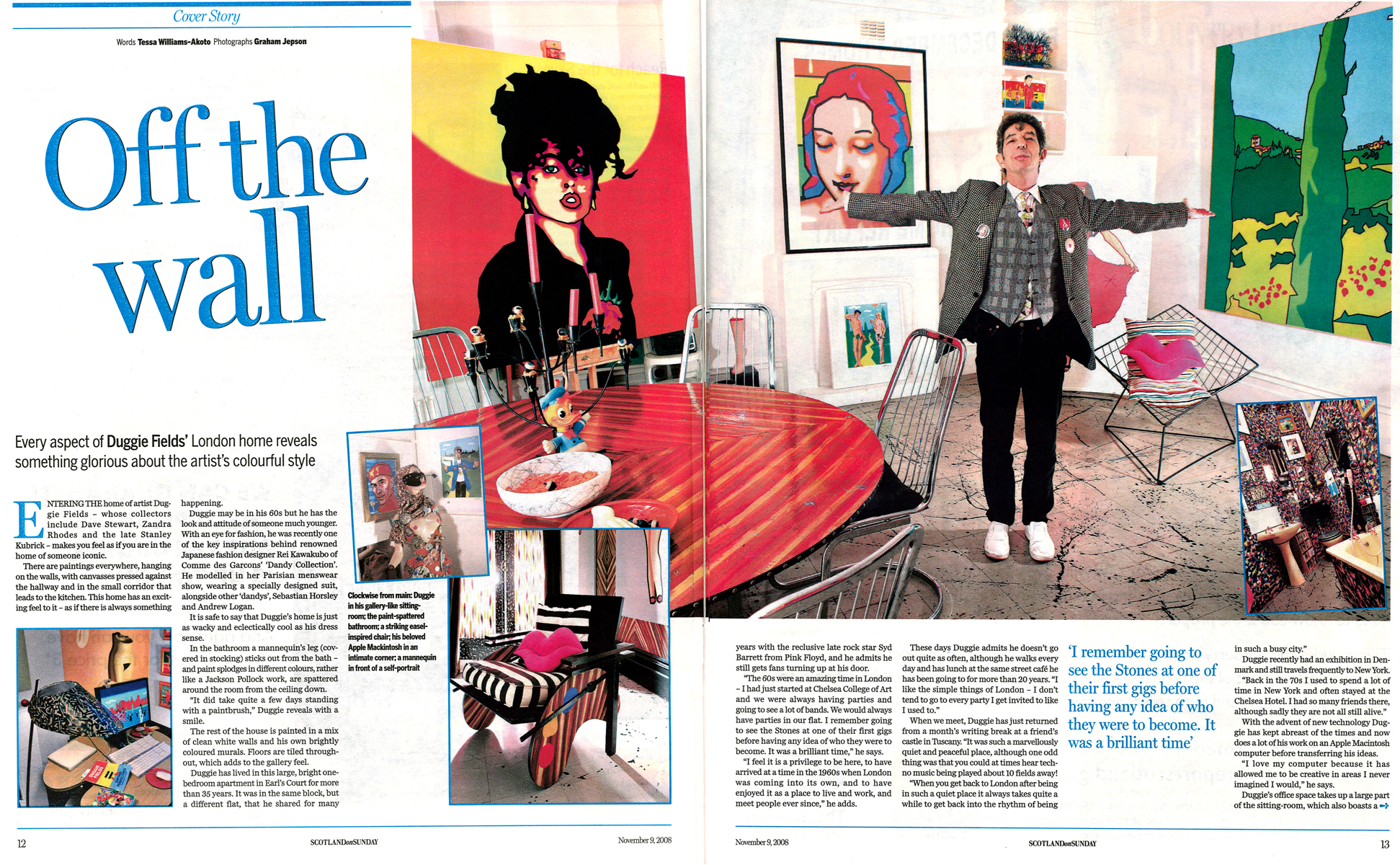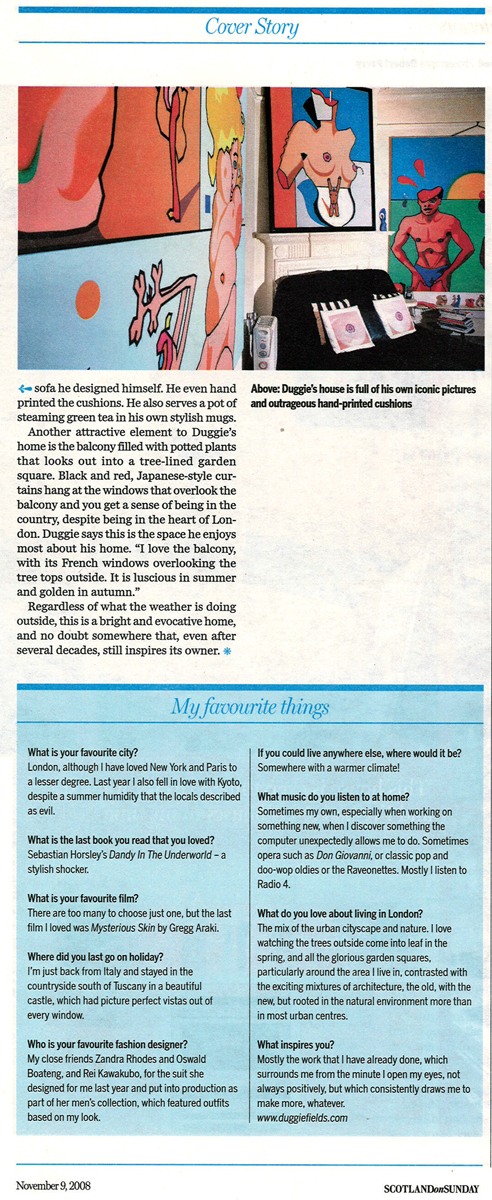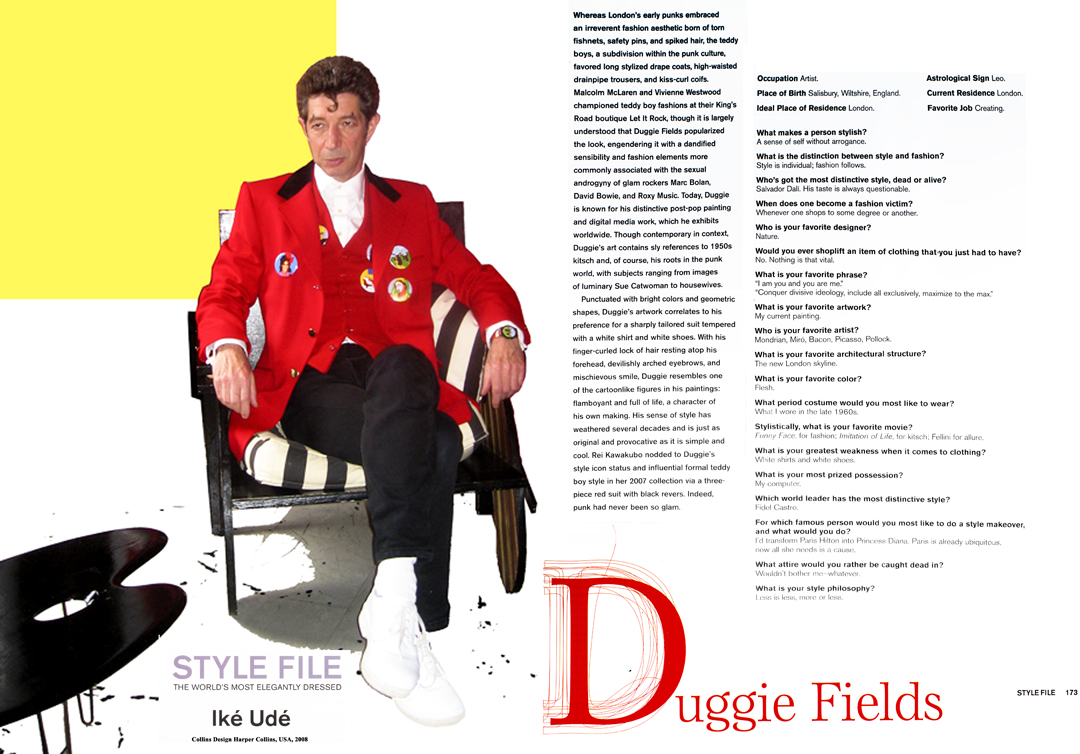 STYLE FILE, The Worlds's Most Elegantly Dressed, IKE UDE, Harper Collins, U.S.A. November 2008

Mermaid Triptych, 2008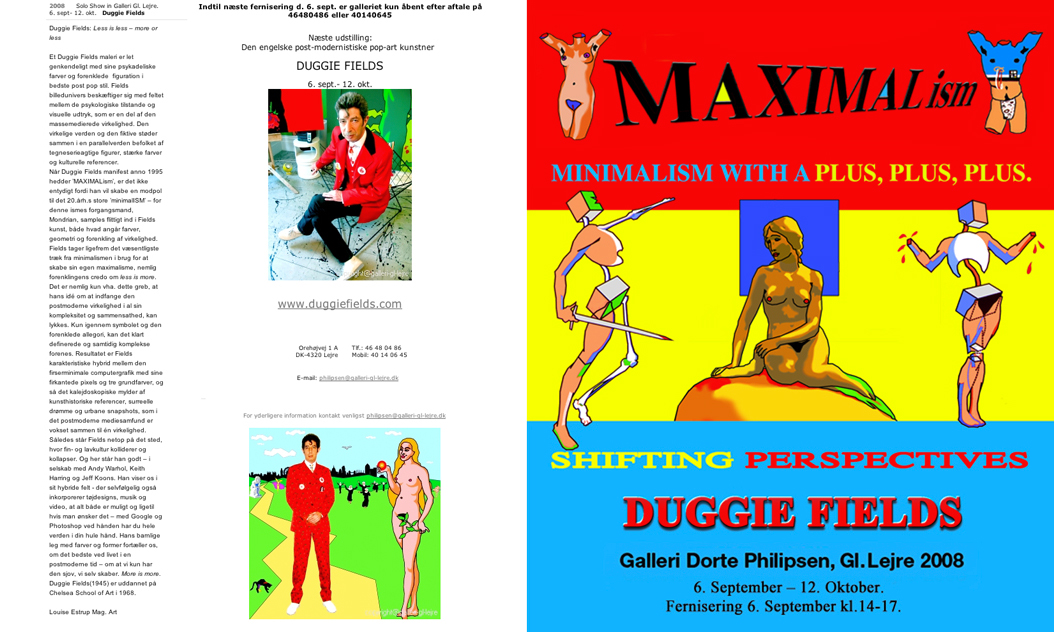 Exhibition in Denmark, 6 September - 12 October 2008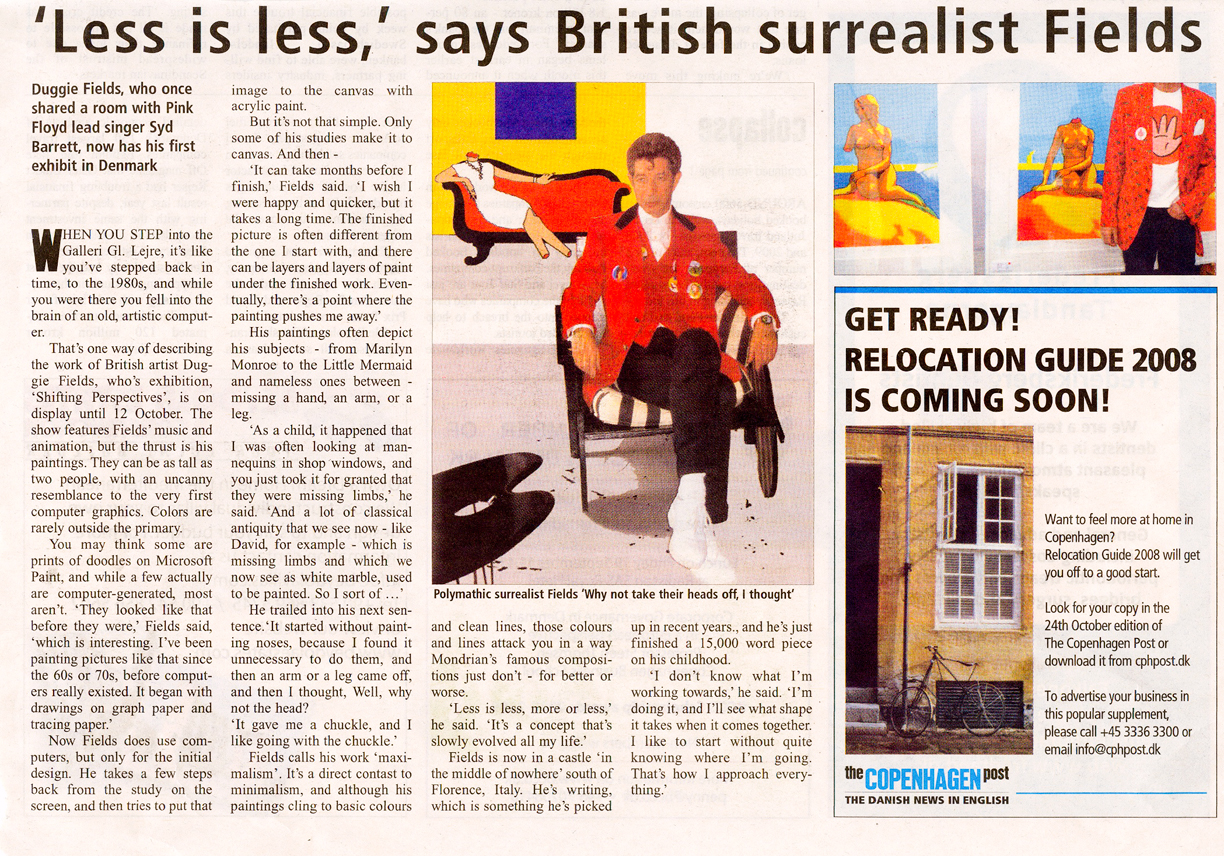 Copenhagen Post. 19 september 2008

Portobello Film Festival at the Muse Gallery, September 2008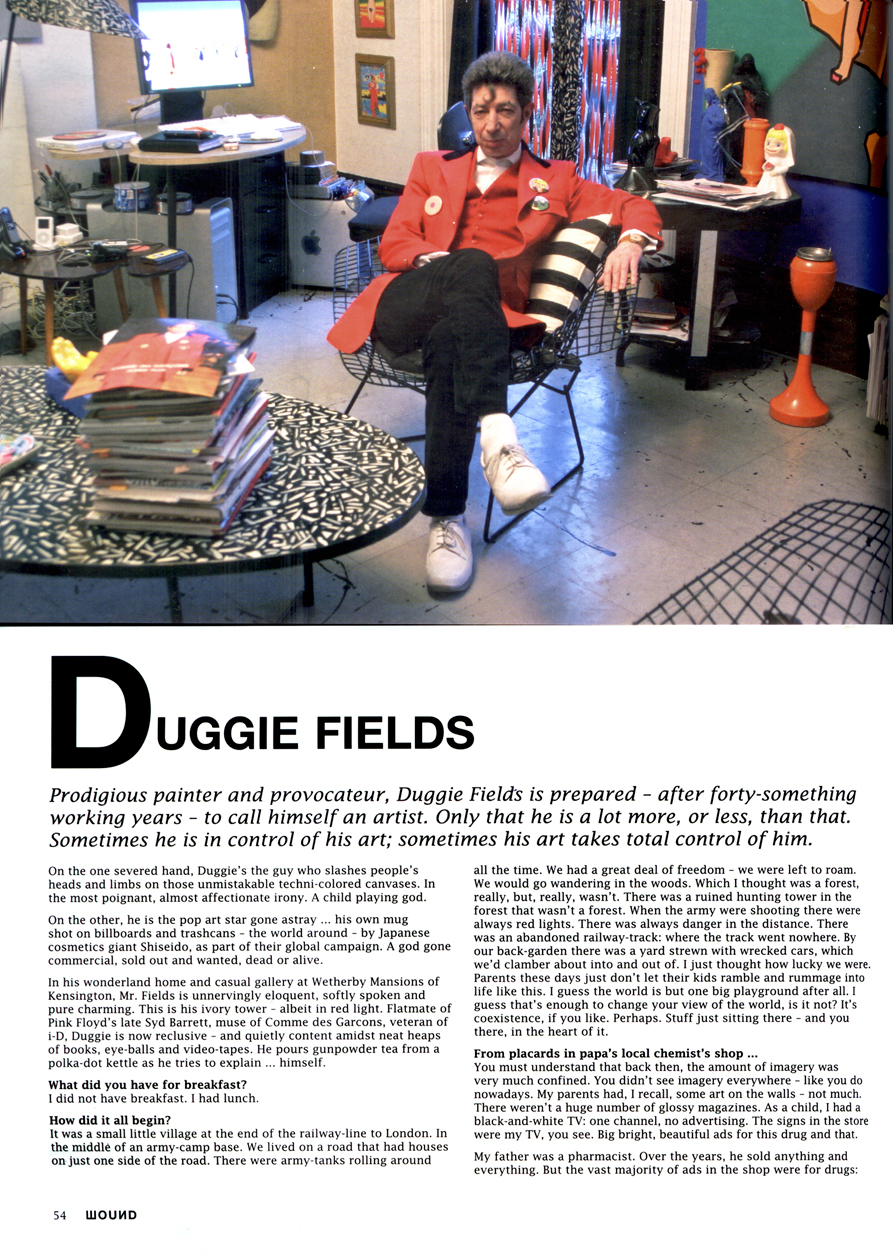 'Wound' magazine issue no 3 2008,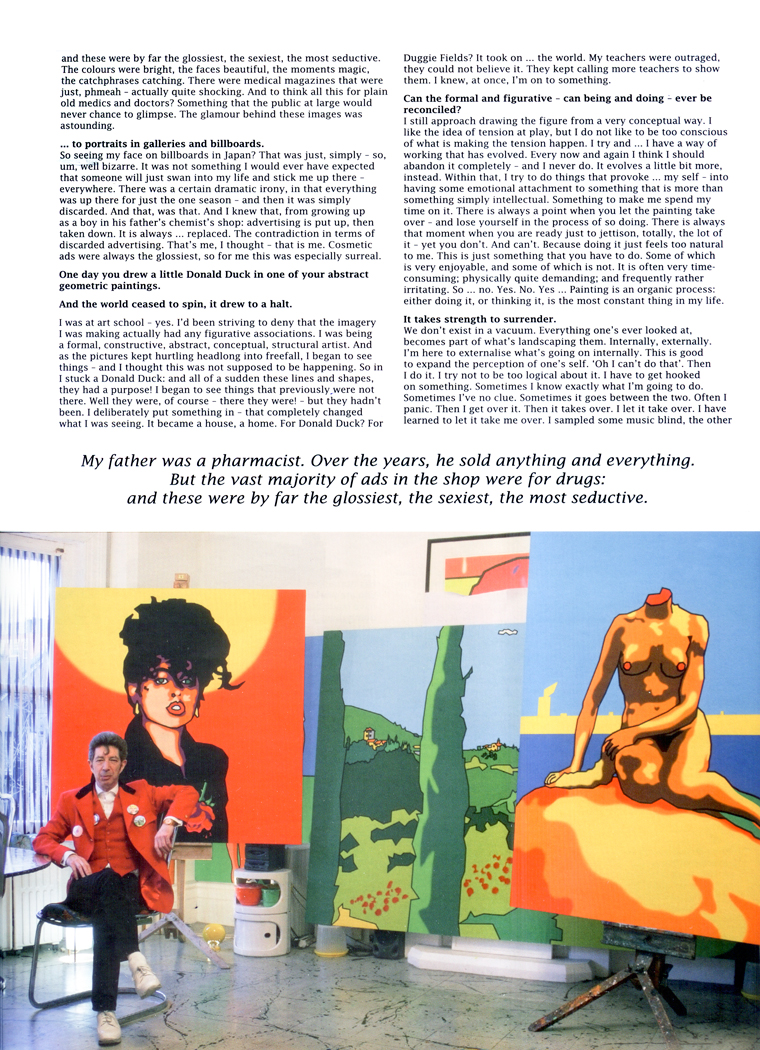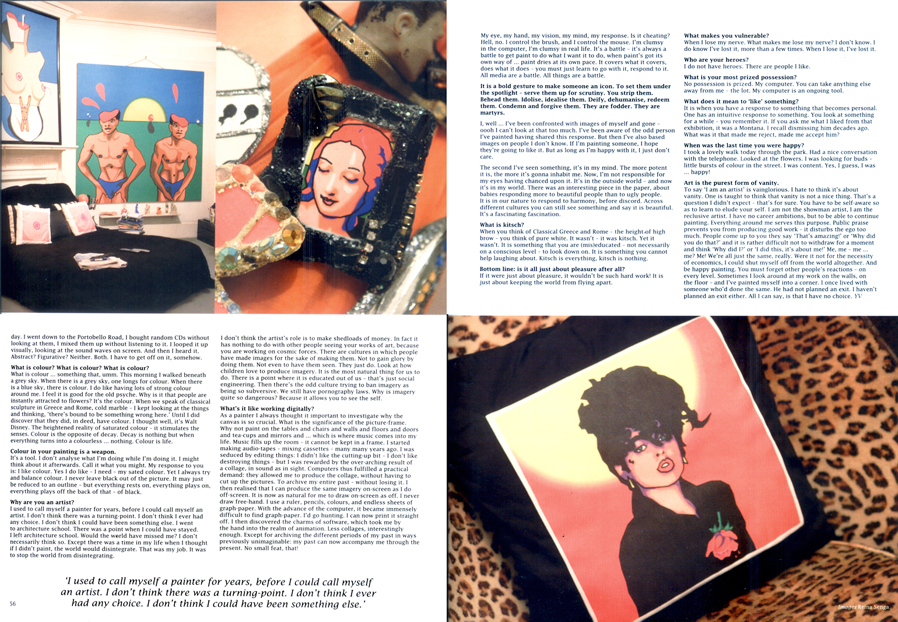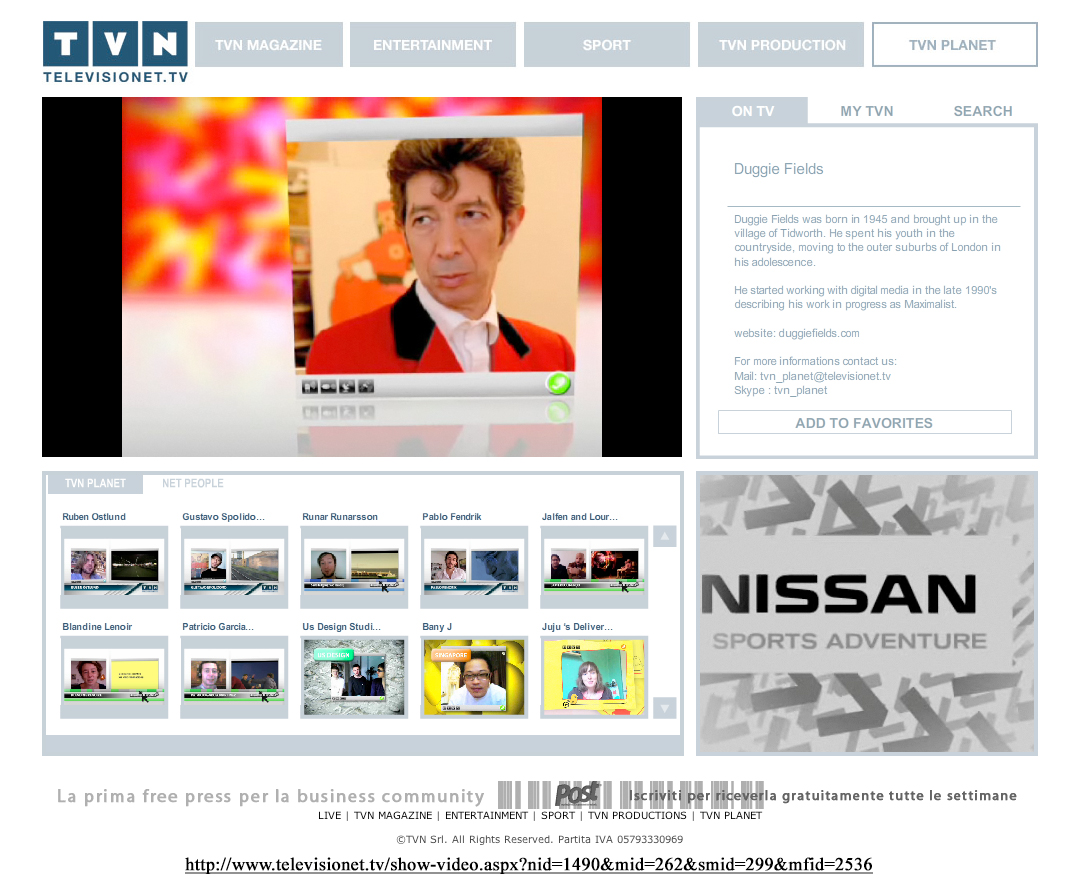 WWW.TELEVISIONET.TV - September 2008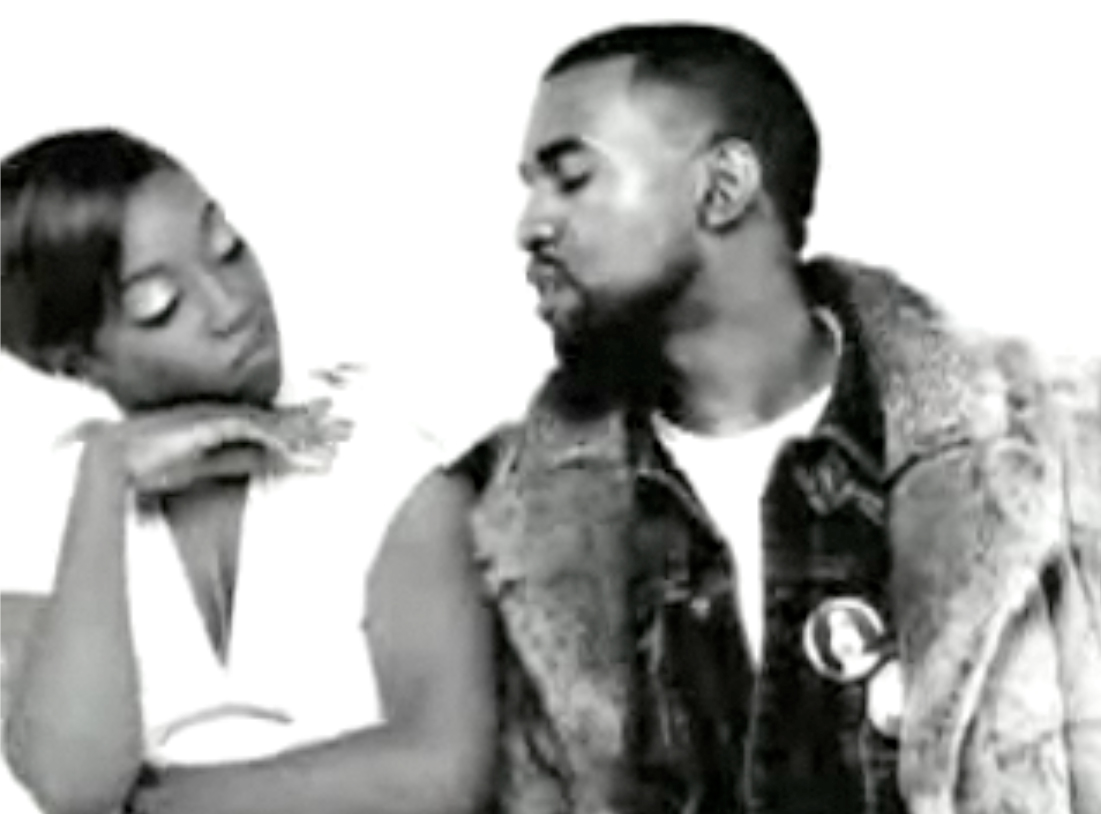 Estelle and Kanye West, American Boy video summer 2008. Kanye West with Michael Jackson Badge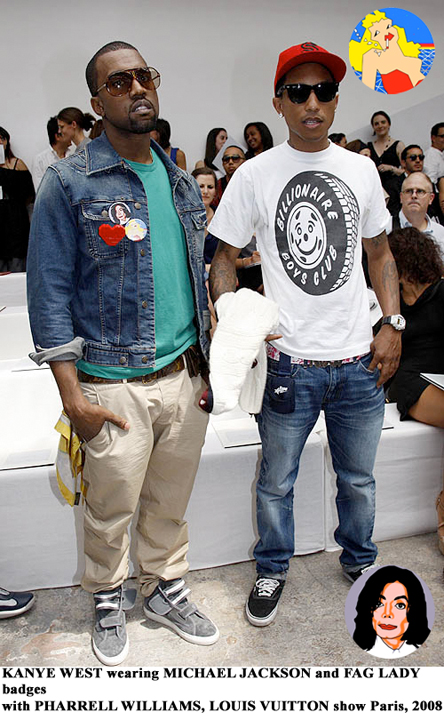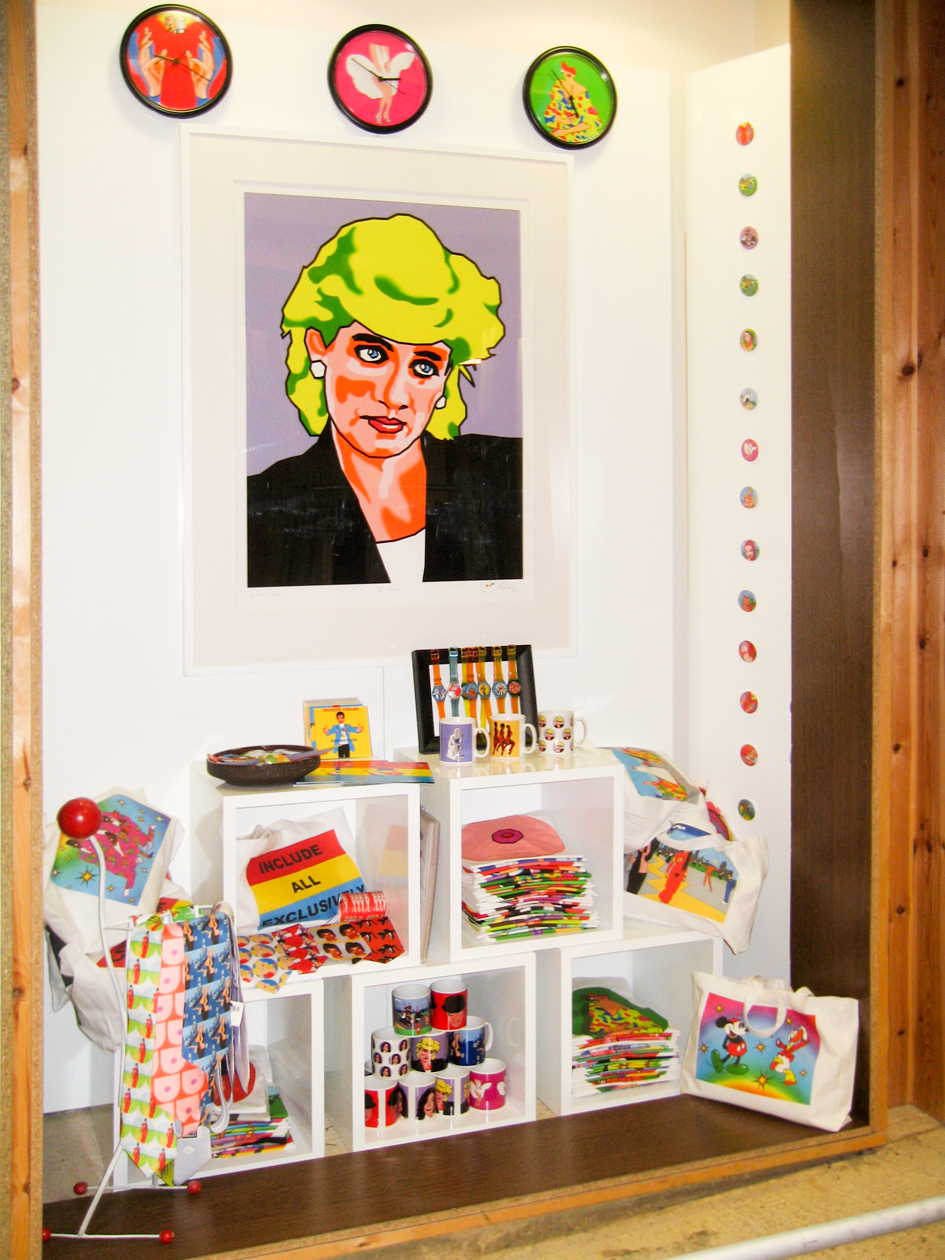 DOVER STREET MARKET, new installation 2008
2nd Floor , DOVER STREET, LONDON, W1
GQ STYLE AUTUMN/WINTER 2007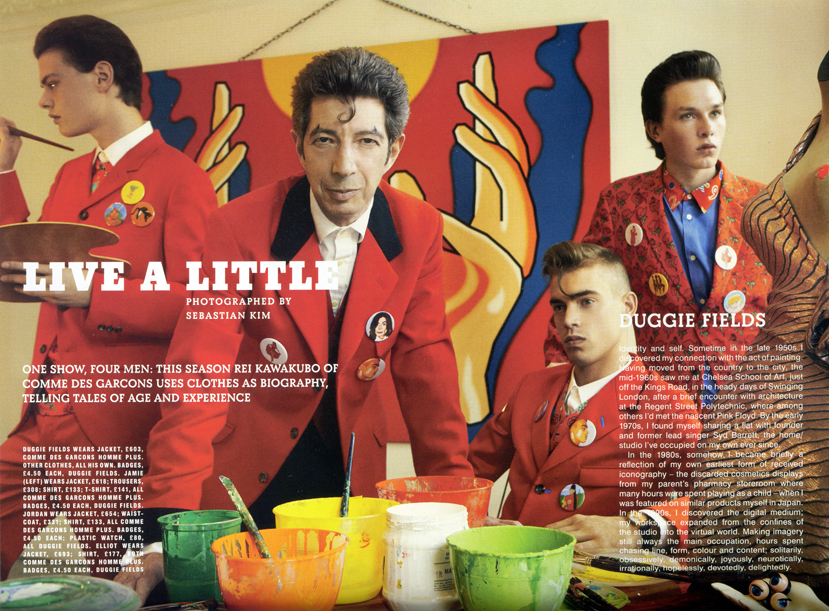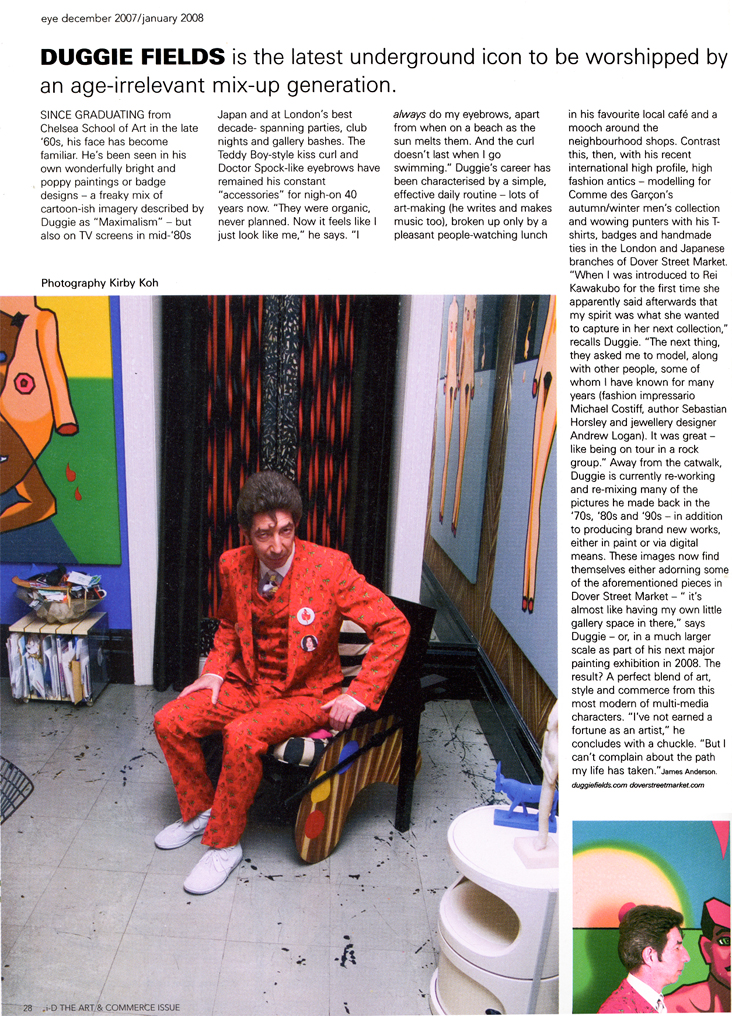 ID magazine, december 2007/january 2008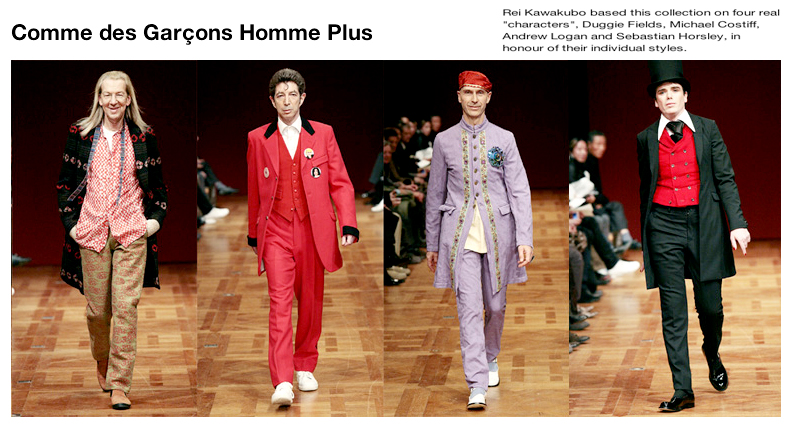 ON THE CATWALK FOR REI KAWAKUBO, PARIS 2007
The Daily Telegraph. Wednesday June 6, 2007 by Jefferson Hack. William Burroughs with David Bowie wearing a limited edition sweater based on my first Clockwork Orange painting.
.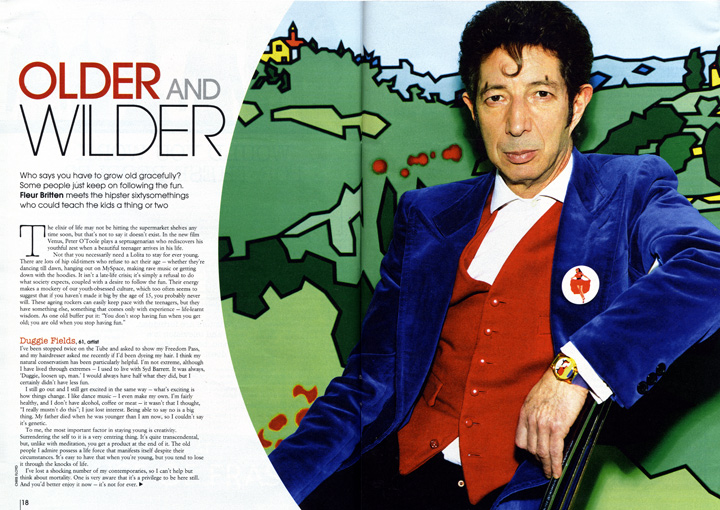 Sunday Times Magazine, Jan 2007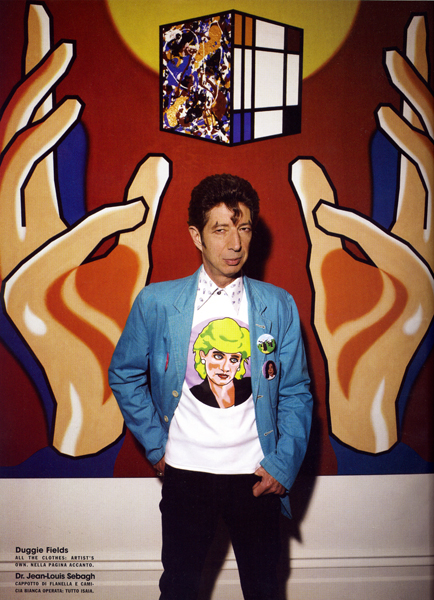 page in Sept.2006 "L'UOMO VOGUE.'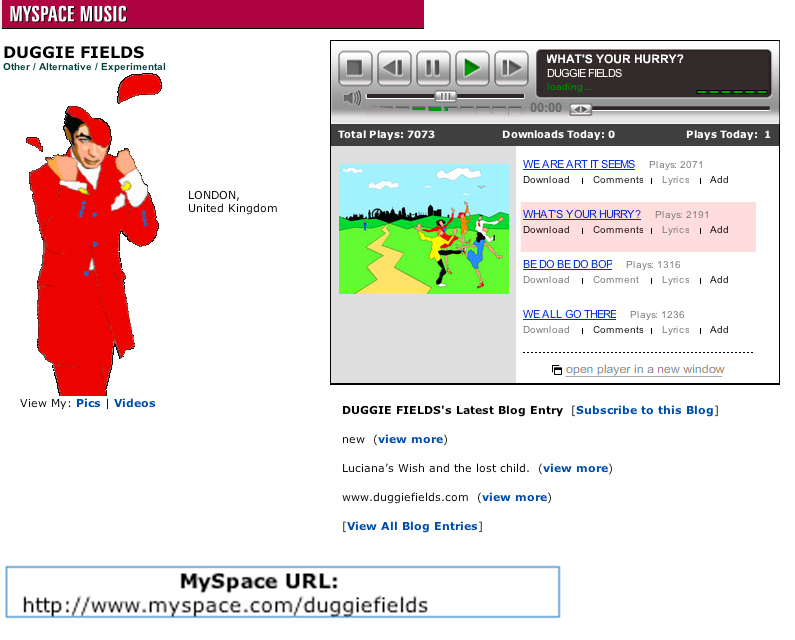 in store at
comme des garcons DOVER STREET MARKET
LONDON - TOKYO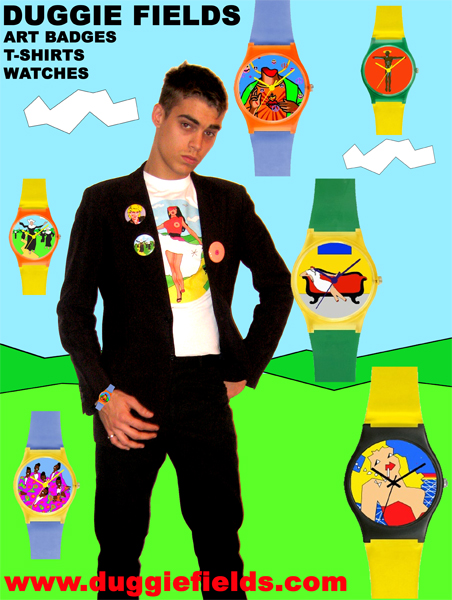 model: Jordan Bowen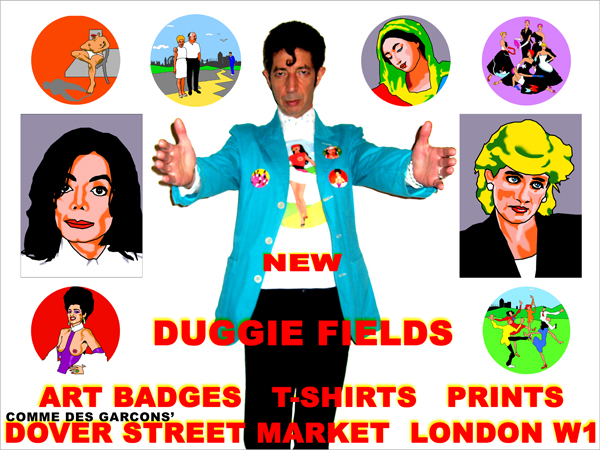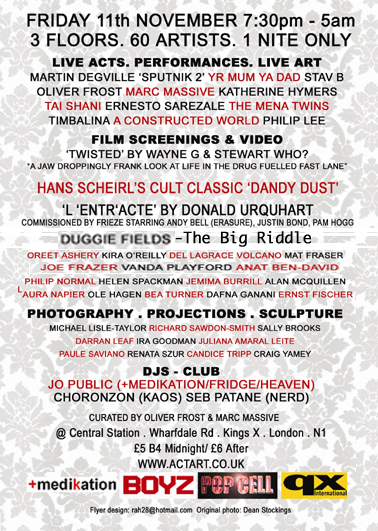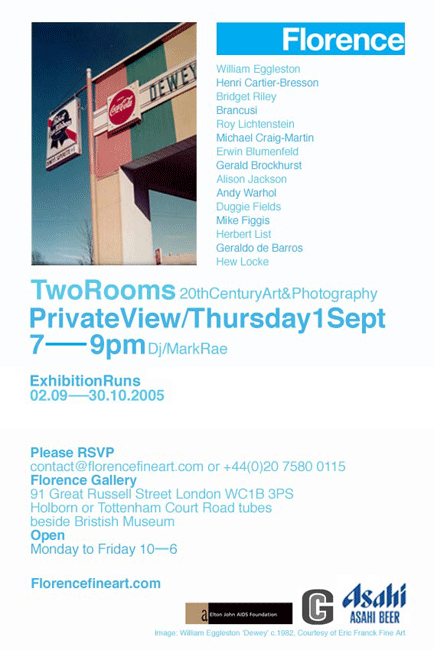 ICA Special Event:
Zulurama 2
Film:
Dates between Sat 06 Aug - Sun 07 Aug 2005.
Writer/performer/curator David Ellis presents a personal response to the recent Kodachrome/Super 8 'offensive' in Paris, initiated by Pip Chodorov of 'Re-voir' distributions.
This afternoon of Super 8 Home-Films/Art Films is knitted together by a presentation of original 1950/60 Kodachromic travel slides from his archive of found material. The selected films will include a unique screening of extracts from The Andrews Archive, a poignant, unaffected assemblage of filmed social history. Recorded on Super 8 film in 1963, it shows the now almost unthinkable reticence of 'ordinary people' in front of the lens. The programme will include rarely-seen footage from Andrew Kotting and special presentations from invitees Martin Andrews, painter/filmmaker/curator Louis Benassi and other yet-to-be-confirmed filmmakers. Ellis will present a rejigged version of his spoken extempore essay Zulurama, an homage to the saturated red of Kodachrome — 'my 1963 teenage descent from grace into the world of colour.'
Background to Zulurama 2
In response to the recently announced discontinuation of Kodachrome Super 8 film, Pip Chodorov (filmmaker and co-founder of the A'bominable Film Lab, Paris) arranged a meeting with Robert Mayson of Kodak. Mayson suggested that Kodak might indeed produce more in the format if filmmakers and enthusiasts found a way to process it. Receiving this as a tentative green light, Chodorov decided to organise a 'Kodachrome Reunion' in Paris on the 4 July as part of a campaign — set to include a direct appeal to the French Government for intervention — for the continued production of Kodachrome Super 8.
Approx 120 mins
Guests presenters include Louis Benassi and Martin Andrews. James Mackay will introduce the Derek Jarman Super 8 short Duggie Fields plus films by Simon Tyszko and Gad Hollander.
Simon Tyszko's films include
Isotope
An archival Super 8 movie from the artist's own family collection. Transferred in slow motion to video, showing the artist as a child with his family including his now dead brother, Isotope is a calculated revealment, from which the artist extrapolates a universal conclusion from the particular details of his background.
11 mins
Control
Sampled and re-filmed from original 8mm 1960 blue movies, Tyszko enlarges and distorts the original imagery mixing meaning and metaphor in an examination of a personal culture of loss and desire.
2 mins
Andrew Kottings's 1986 B/W Super 8 Anvil Head the Hun will also be featured.
Venue(s) : Cinema 2.
Sat 06 Aug - Sun 07 Aug 2005
INSTITUTE OF CONTEMPORARY ART
THE MALL
LONDON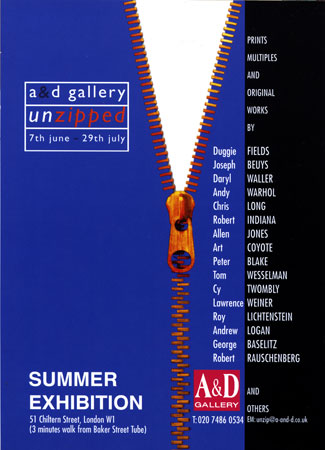 2005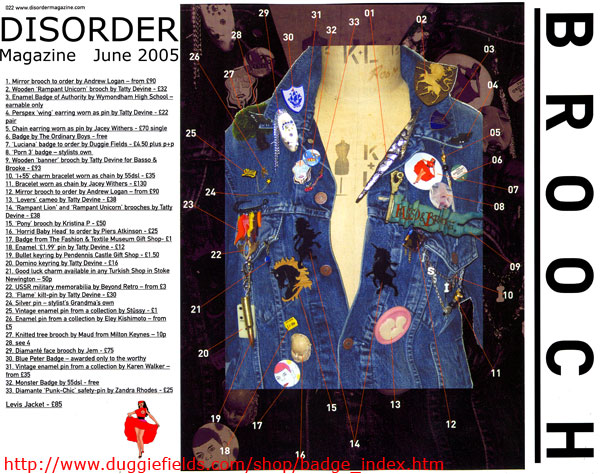 Disorder Magazine June 2005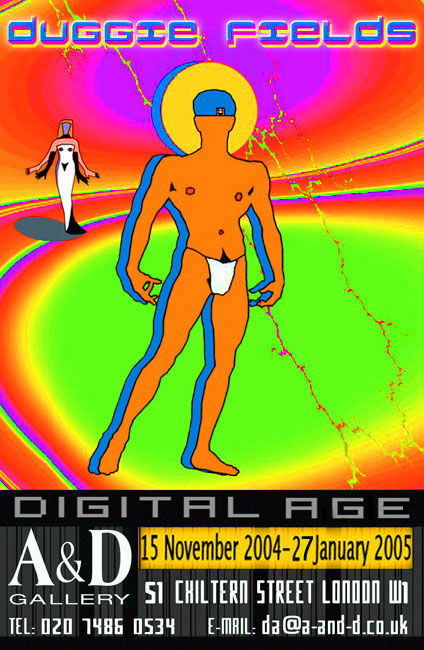 20 NEW PRINTS IN AN EDITION OF 5 EACH COMMISSIONED BY DANIEL BRANT FOR A&D EDITIONS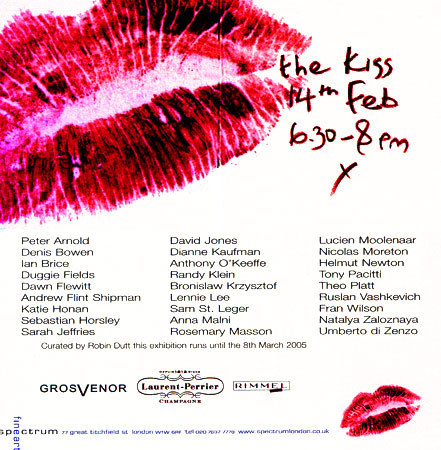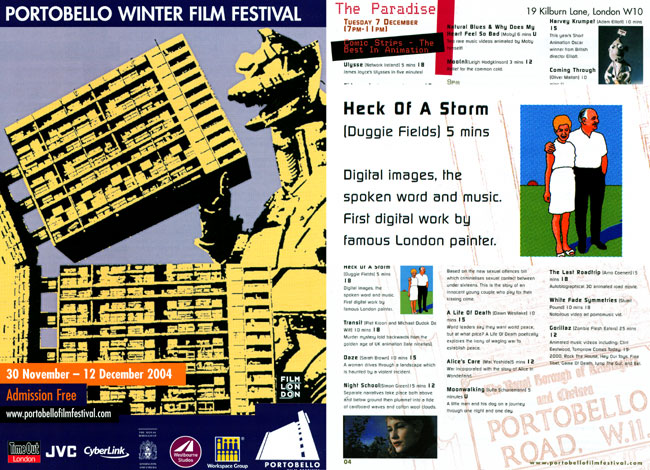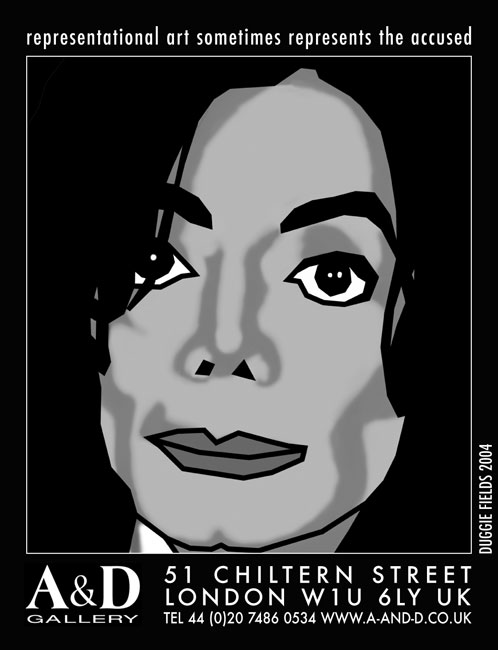 A&D GALLERY advert in FRIEZE magazine October 2004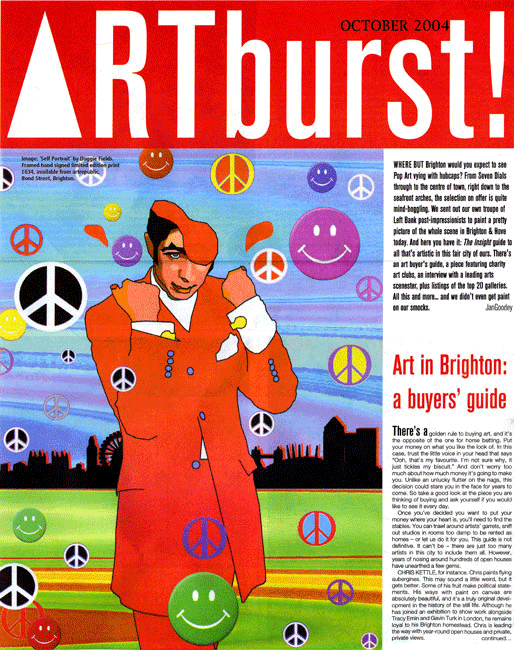 BRIGHTON GALLERY GUIDE, October 2004