Luciana's Wish and the lost child.


It has been a privilege to have the friendship of many wonderful women in my life so far, some I still have, and some lost on the journey one way or another. This is a true story that unites several of these main characters from my adult life in a way that brought shivers to my spine, more than once, as I experienced the unfolding, unexpected, reality of what was taking place.

Nine women became entwined with me in a series of events that encompassed friendships of thirty years duration, sharing both intense pain, pleasure, sorrow and joy, and resulting in the surprise re-appearance of a child now grown, with the simultaneous awareness of a poignant musical tribute to, and reminder of, a departed loved one, whose very absence facilitated the circumstances that created this happening.

There are many connections, seemingly chance encounters, between the known and the unknown. This is a history of some of them. It begins with the apparently random choice of an old photograph. The lost child was to come into my life through this picture, only I didn't know it at the time, or even, of his existence.

A curious email turned up in my inbox one day in November 2001, enquiring about a photograph dating from 1975 in the 'History' section of my website. Having a fairly substantial site, it has featured in the BBC2 series on 'Art and the Internet' as part of its Open University television course, I have become used to receiving emails from strangers from all over, with all sorts of enquiries and comments.

The email in question was short, polite, rather formal and somewhat cryptic in content, asking to contact me in some other way, for information about this particular photograph. Both the tone and the content of the emails that followed caught my attention, so that as well as replying, I kept them stored on my computer. The request, when enlarged on, was for information regarding one of the two women with me in the picture.

with Ulla Larson, Kevin Whitney & Sharman Forman, 1975

The photograph that had generated this enquiry looks an apparently happy snapshot of four friends, two men and two women, at a party, which, on the surface, it is. At the same time, the actual physical photograph itself has a tragic history of pain and sadness connected with it, encompassing the sudden, unexpected, unconnected, deaths of three of my closest, most cherished, most colourful, female friends, before it was to pass into my possession and arrive on my website. A history the enquirer could not have known, and something far from my conscious mind, at the time.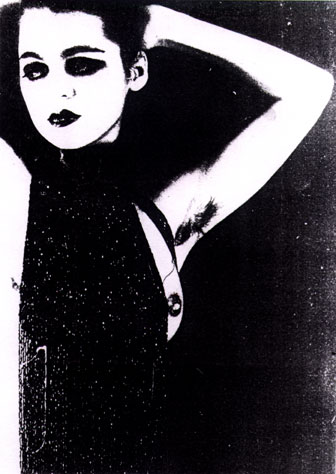 Luciana 1974
The picture was taken by the artist Luciana Martinez de la Rosa and stayed in one of the almost annual photographic albums she made from the mid 1970's on, travelling with her when she moved from London to New York, to Los Angeles, and back to New York again, until her death there from meningitis, aged 47 in October 1995. Then, coming back to London as part of the communal property of her estate, the photograph passed into the care of Chelita Salvatori.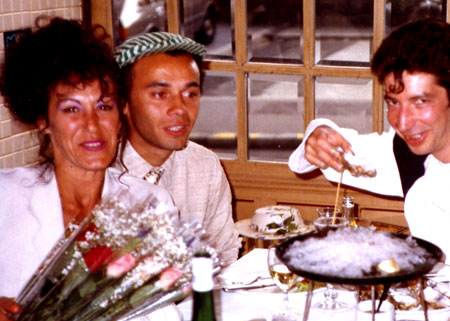 with Chelita & Christian Louboutin c 1984
In March 2000, Chelita walked up to the top of the stairs of her ryad in Marrakech, and died of a heart attack. She was just 55. And so some of Luciana's albums eventually ended up coming to me for safekeeping, including the one with this picture.
Luciana had come into my life sometime at the beginning of the 1970s, when she was living around the corner in Earl's Court with the artist Kevin Whitney who I knew from student days at Chelsea Art School and one of the three people with me in the photograph in question. We had quickly become friends, and if we didn't see each other almost every day, we would talk on the phone for hours instead. One to three hour conversations daily weren't uncommon over the twenty or so years of her life in London, followed by extensive despite expensive calls to and from America in the years that followed.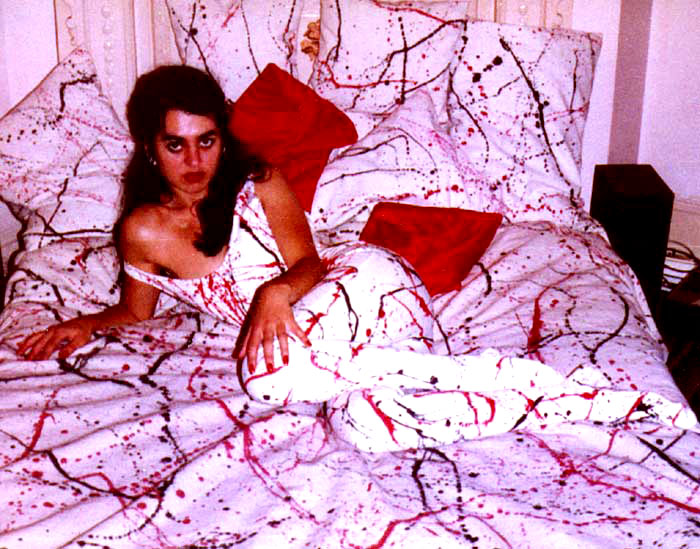 Luciana 1977

She was the female artist of my life, and many hours were spent with paintbrush in hand and telephone held between chin and shoulder, as we talked whilst we painted in our respective studios. Luciana even planned our old-age together, living and painting somewhere in Italy, where I happen to be now, writing this account.
Three days before being taken ill, she had called to tell me how happy she was, having found both a new loft in New York to live and work in, and a new lover. Her voice hadn't sounded so happy in some time and this was to be the last I heard of it. Her last evening, I found out later, she spent in part hanging out in the Bowery Bar with the artist Brian Clarke, art dealer Tony Shafrazi, and Leondardo Di Caprio, she was in her element.
The previous year our friend Gerlinde, arriving back to London from Miami, had died of a brain haemorrhage, aged 52. Luciana heard the news whilst I was on my way out of New York. Calling her from the airport to say goodbye, she didn't tell me of this, knowing how upset I would be, wanting instead to wait until I was home. Arriving to find a message on my answer machine from someone else, I promptly dismissed it as an obviously incorrect rumour, before falling asleep, only to be awakened later by Luciana confirming the sad reality.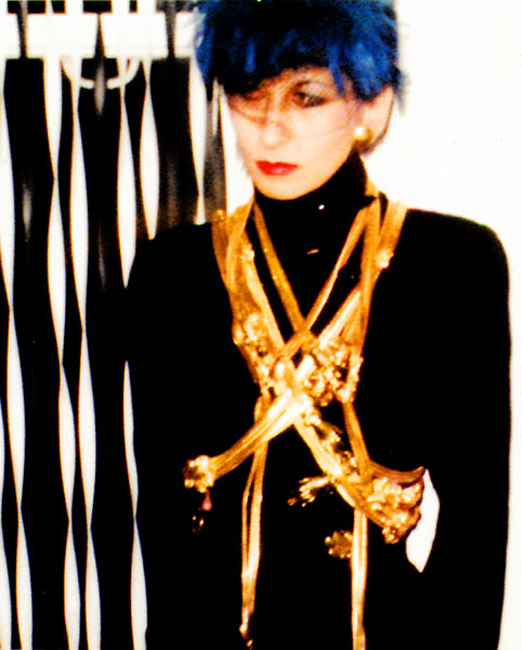 Gerlinde c 1979
For weeks after, the loss and shock would cause me to cry constantly, anywhere. In shops, in the supermarket, walking the streets, I would find myself in tears. I had lost both my parents already, and several male friends, usually forewarned, but no woman friend really so close, so stimulating, so gorgeous and such fun. Gerlinde had been the companion to accompany me to my exhibition in Edinburgh years before, and had brought many extraordinary people and moments into my life in the almost twenty-five years of our friendship. We had lunched together the day before she'd left for Miami to embark on a new creative business venture with her husband Michael. She was nervous and excited, positive and happy, looking in great physical form and style. Her death was out-of-the-blue, and after, it took a long time before the world seemed to turn back to normal.
Losing Luciana, a year and one day later, was a traumatically shared experience, over the four days of the life-support is-she-or-isn't-she going to make it period. Somehow, as soon as I had gotten that first call, I knew she wouldn't. When she was taken to hospital, without anyone knowing what she was becoming ill with, I had been the first to be called, to try to make contact with her family in England. It also fell to me to inform other friends in London, New York, and Los Angeles.
The woman in the photograph who was the focus of the emails at the centre of this story, Sharman Forman, was in Los Angeles at this time, where she still lives with her husband Chris. Charlotte Barnes, the friend who was later to reveal the lost child's existence to me, was in New York, over-seeing the design of an apartment for Constantine Niarchos. We communed over the telephone in anxiousness and sadness, Charlotte having the un-forewarned shock at seeing Luciana in hospital in isolation, unconscious, bloated from the septicaemia which hadn't been identified in time to save her.

Charlotte and I had become friends on the telephone before we ever met, in the early 1970s, whilst I was living in my Earls Court flat with Syd Barrett after he had just left the Pink Floyd, and she was living just off the King's Road in Chelsea, with amongst others Mickey Finn, shortly before he was to join Marc Bolan in T.Rex. Calling to talk to Mickey, Charlotte, who at the time was a fabric designer working at home, would most often be the one to answer the phone, and we bonded even before we met in person.
Sharman I also met soon after, along with her Australian style-twin Sally Cambell, sister of Nell Campbell from the Rocky Horror Show, who with matching curly red hair had a similar penchant for polka-dots. So much so that I designed their matching outfits as Siamese twins, when they entered Andrew Logan's 1975 Alternative Miss World contest as Miss Siam, in conjoined cocktail frocks with one breast exposed. We were all part of a loose group of friends amongst whom Luciana played a major part.

Rae's Last Supper,
Michael Kostff, Prue Walters, me, Andrew Logan, Jenny Runacre, Michael Davies, Dick Jewell, Luciana, Brian Temple, Gerlinde Kostiff, Keith Wainwright & Miles Chapman, photograph Rae Spencer-Cullen, c1975
The trauma of Luciana's death, the very idea of this beautiful, talented, lovely creature ending in such an ugly, physically shocking, sudden, brutal manner – meningitis attacks the lining of the blood vessels causing them to collapse, and allowing blood to seep through so that the body bloats and blackens as it dies – the loss of her spirit, her enthusiasm, and her sheer presence, live with me constantly. Her image now reduced to the desktop picture on my computer that I look at daily when I start it up – and here is where this story begins to take on more of its surreal quality.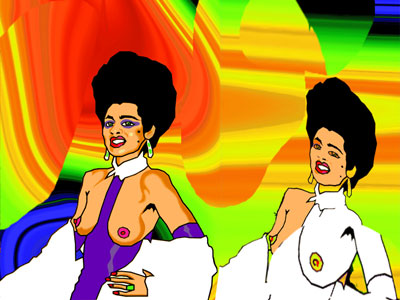 My desktop picture
Luciana had left a will naming Chelita and myself, along with eight others of her friends, and six family members, as the beneficiaries of her estate. Also I was to be an executor along with Tony Gross. We were to arrange her funeral, with a party to celebrate her life, to which she left a substantial sum for expenses. The funeral however was destined not take place, her family having (of necessity) had the body cremated in New York, before the will could be read in London. So, organising a memorial party became a concern for all the shocked friends, and Chelita was to become my closest support in this very unwanted task.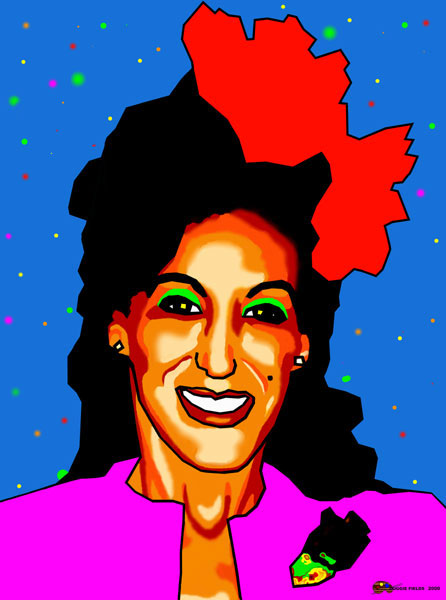 Chelita, portrait made between her death and funeral.
It had been sometime in the late 1960s that I first got to know Chelita Salvatori, Secunda when I met her, and she had ever since played an enormous part in my life. She had been one of the first to buy my work, and to introduce it to many others including Zandra Rhodes, who also as well as buying my pictures went on to become one of my greatest friends and supports. Chelita was a muse to both the fashion designer Ossie Clarke, and the pop star Marc Bolan. Indeed being the instigator of Marc's addiction to glitter and women's clothes, she can be held responsible for much of the look now referred to as Glam Rock.
Sorting through the debris of Luciana's life left in her London apartment, with Chelita, was a heartbreaking undertaking, to be repeated only a few years later, when after Chelita's death, I was to reclaim some of Luciana's bits and pieces that she had held on to.
The will also left wishes as to the distribution of Luciana's assets and paintings. It was decided to keep her photo albums together so that one day some kind of exhibition, event, or publication of them might come about, something we knew Luciana would want, though as yet still to happen. This was a difficult decision, her mother, wanting all the albums with her in the country, when offered to have some only and in rotation, so that the bulk stayed available in London, refused any. There were tears, anger and recriminations. Likewise the distribution of the paintings was to be equally problematic.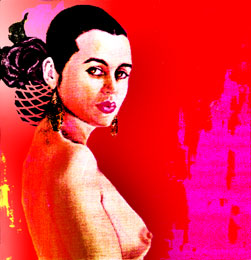 Luciana's self-portrait In the Pink
Luciana had painted many self-portraits. The will allowed the sixteen beneficiaries to choose from the portraits she had painted of them if any, along with the choice of one other piece. Many wanted one of the self-portraits, and there weren't enough. There was one I very much would have liked that had the closest associations with me, particularly in its use of colour, which at the time of its painting she had said was the most influenced by mine. However, it became her mother's choice. There was another remaining that I suggested should go to someone in America who hadn't been left anything, the will dated from before Luciana moved there, when Chelita convinced me that this was the piece that should in fact come to me, and so it did.
This is the painting, her 'Self-portrait with Big Puss,' that was to come back later into my life and this story as 'Luciana's Wish,' at the very same time as the lost child came back into his mother's life, through the photograph on my website.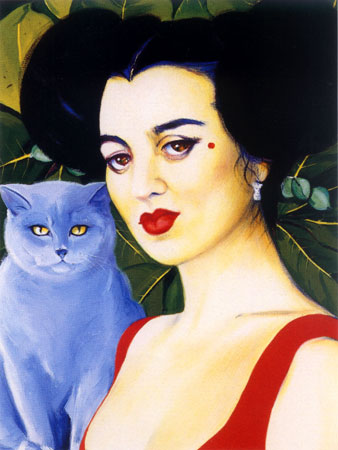 Luciana's "Self-Portrait with Big Puss'
Having recounted some of the pain associated with its travels in the external world, it comes necessary to relate some of the angst associated with the photo's seemingly fun loving participants. The two women either side of me in this jolly image had both had to give their only children up for adoption. Here is where the other woman's story becomes significant.
Ulla Larson, originally from Sweden, had moved to London from Berlin, where she had been a model, in the 1960s, in the throws of a love affair with Luciana's brother Joe, and it was for Ulla that I had placed this particular picture at this particular time on my website.
Ulla and I had become friends some time after her arrival at the Chelsea Antique Market, where even in the heady days of the 'beautiful people' on the King's Road then, her extraordinary looks, glamour, spirit, and amazing zest for life had brought so many people flocking. We have become ever closer over the thirty years of our friendship, sadly sharing the losses of Gerlinde, Luciana, Chelita, and other friends along the way.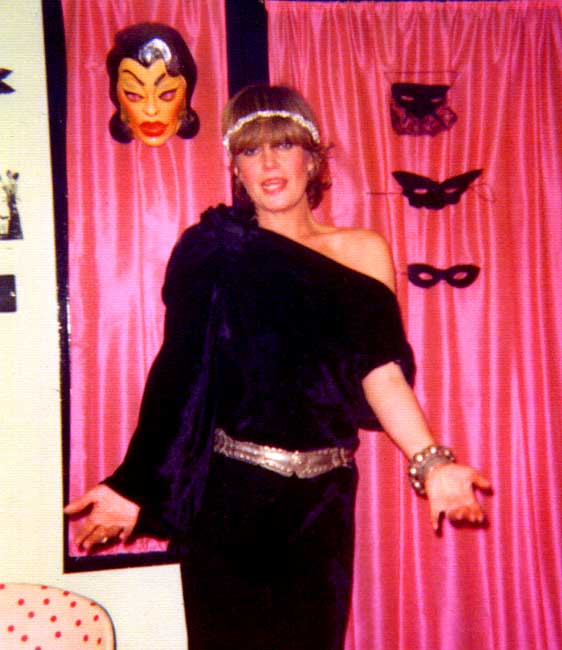 Ulla, 1974
Showing Ulla my website for the first time, she had commented that there were no pictures of her there. Its 'History' section had evolved in a random fashion as a scrapbook of work, photos I had taken, or pictures taken of me with friends and family. As and when I came across them and had the time to scan them, they found their way on to the site.
This was sometime shortly after Chelita's death, and so when some of Luciana's albums had just come to me for storage. Having been looking through the albums again, and knowing there were many pictures of Ulla there, I took, and with some reservation about disturbing them, one only to scan for the site.
Why that particular picture, I'm not sure. Looking back after, it seems there were many other choices I could have made. It's not the best of Ulla, there are many and better pictures of her in the albums, nor is it especially good of me for that matter and certainly not of Sharman, though maybe it is rather good of Kevin. The fact that it contained two women who had to make the same painful choice, I was only to be conscious of later.
I had known Ulla's story for some years, and the unhappiness it caused her. Her son had been found in Sweden back when he was 21 by one of her closest friends. However he had not wanted to know. As the years progressed, and Ulla was even only able to talk about it after some considerable time, she would say tearfully each trip back home to Sweden "I must find my son." And this was to continue for some years more before, when in his 40's, he re-established contact with her. It was far from my mind when choosing the picture.
Sharman's story was yet to become known to me until after the fourth email I received about the photo. This, whilst ever cryptic, still requested a more personal contact with me, along with an oddly expressed interest in the woman in the picture as someone who he 'may or may not' have been looking for. These curious emails I reported to Kevin, Zandra, and Andrew, all old friends of Sharman's, to see if they might offer any insight as to what it might be about, before I emailed my phone number to this curious stranger. They didn't know what to make of it either.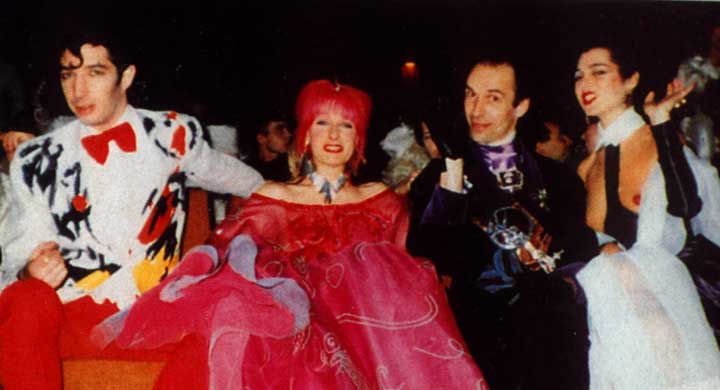 with Zandra Rhodes, Andrew Logan & Luciana, at the Alternative Miss World film premiere, Vogue April 1990
Visiting Charlotte, I asked her. Distracted, she offered no idea, then suddenly popped out with 'Could it be the lost child?' I answered in shocked certainty, though with no prior knowledge of any child, that was all it could be. Charlotte proceeded to explain to me how Sharman had come back to England five years previously, specifically to look for the child she had to put out for adoption just before we all had met in the early 1970s, but with no success, and how this had been her only child, and her life's heartache.
And so I was to send Jeremy my phone number, and the following week, walking around Waitrose, I received his phone call. He explained that he was adopted, that he was looking for his birth mother, and that hers was the name he had. I replied that I knew, or rather that my friend Charlotte knew, that Sharman had been looking for her child, so that, perhaps, he had found her. We talked some more as I shopped as if all was normal, but I knew, for the voice on the other end of the phone, the world had changed irrevocably.
In reply, he told me he'd known her name for more than a decade, had never done or wanted to do anything about it before, but returning recently from Australia, something had prompted him for the first time to do an Internet search. The only result that had come up was the photograph on my website.
He asked me not to tell Sharman, explaining that he was far from prepared, that this was really too unexpected, but he did request to meet me, and Charlotte also, in the meantime. We eventually arranged this a few weeks later, just before Christmas, in the most innocuous, inconspicuous place I could think of - Dino's in Gloucester Road, half way between Charlotte's home and mine. It has booths and is always empty, which indeed it was, and Charlotte and I got there early and waited, and in walked our friend's son. We knew him instantly, for he was in appearance even more the child of the father, someone equally familiar to us. Both parents were our friends over thirty years, and here was the man they had as yet to see their child become.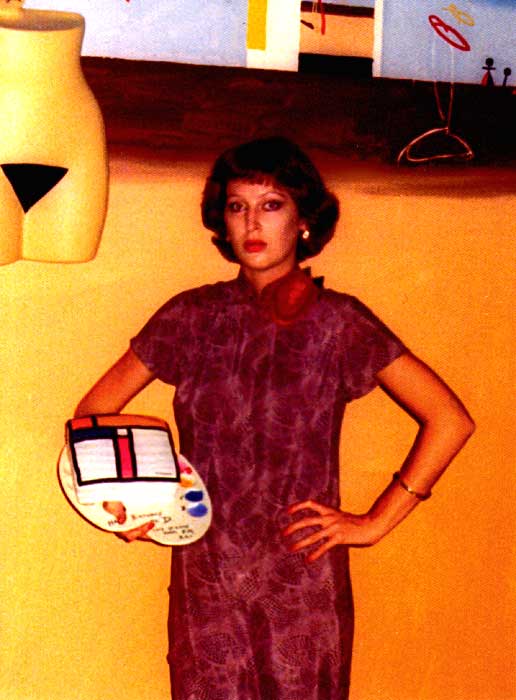 Charlotte 1977
It was a highly charged meeting. We were totally aware of the delicacy of the situation, especially when he asked after some time if we knew who his father might be. On hearing that we did, he asked us not to tell him more, saying that concentrating on his mother was more than enough for the present, that also he was still far from ready to go further, and requesting that we tell neither of this contact until he was. Jeremy told us he had a wonderful family, and wasn't sure of his own feelings at this point, let alone how their reaction to this would be. He did say he would write a letter in the New Year for Charlotte to send on to Sharman, and we all separated somewhat emotionally overcome.
His letter didn't arrive until sometime in February and waiting was both a time of anxious anticipation, nervousness as to whether we had handled everything right, along with the difficulty of keeping this extraordinary event a secret, especially from those who it would most matter to. The letter did arrive eventually, and then Charlotte kept it for a further 10 days, knowing that Sharman, a successful stylist, was in the midst of a highly stressful work trip to Italy. She timed it so that the letter arrived in Los Angeles after Sharman would have time to settle back home and relax, and when it finally did reach her later in March, simultaneously 'Luciana's Wish' was to arrive with me.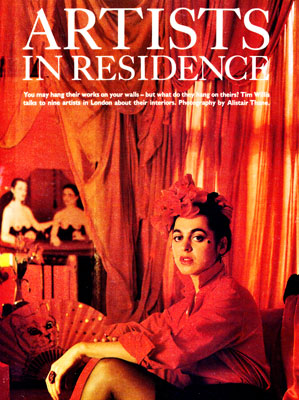 Luciana in THE Magazine, 1980's
As well as being an artist herself, Luciana was the subject and inspiration of, and for, creativity in many others. She was the focus of early experimental films by both Derek Jarman, and John Maybury; she was painted by Kevin Whitney, by Trojan, and myself; sculpted by Andrew Logan; and photographed by too many to list, Mario Testino amongst others, including Joe Gaffney, the father of the lost child. Her paintings, and pictures of her, would appear in magazines and newspapers from the UK, Italy, Germany, Japan, and the USA, from the Tatler to the Sun. Designers including Vivienne Westwood, John Galliano, Mr.Pearl, and Stephen Jones, made outfits especially for her, many of which, along with some of her Andrew Logan jewellery, are now in New York's Metropolitain Museum.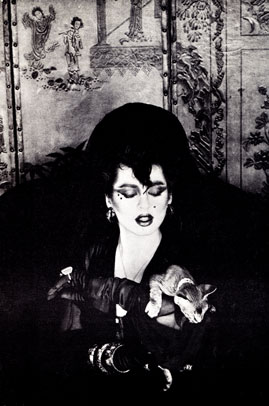 Luciana 1983
Some time after Luciana's death, a Los Angeles based group of musicians led by Paul Cantelon produced, in tribute to her inspiration, a cd of romantic classical tracks fused with subtle ambient rhythm, which they titled 'Luciana's Wish.' They also set up a website to go along with it. As the image on the disc they used her 'Self-portrait with Big Puss.' I only first heard of this that same night in March.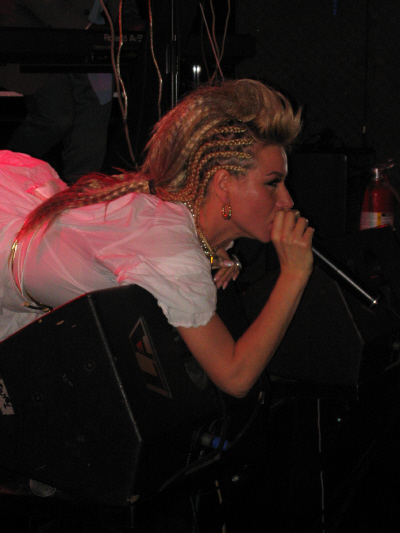 Alex, New York 2005
I had gone to the Vibe Bar in Brick Lane to hear my friend Alex performing with her band 'Ali Zapak and the Ava Gardeners' – she is now in New York performing as 'The Countess and the Cunt Rock Revolution.' Alex and I had met as neighbours in Earls Court in the early 1990s, and she had seduced me with her music walking around Brompton Cemetery, listening to it on a tape. Alex and Luciana had met by chance at my studio some years after, and seriously not got along on their first encounter. Later, in New York, they would get to become great friends. At the end of her session, a breathless Alex informed me that there was a cd somewhere for me called 'Luciana's Wishes,' left for me by some group from L.A. whom I'd missed performing earlier but would have liked. Only she couldn't find it. And I went home without, thinking what a strange title they had chosen to call a band or piece of music or whatever.
Checking my email before going to bed, I found one from Sharman, telling me she had just received Jeremy's letter and
how she was overwhelmed by both it, and the circumstances of its arrival. I went to sleep to find myself wide-awake, sitting up in bed, in the middle of the night, with shivers down my spine. The phrase 'Luciana's Wishes' echoing through my mind, and making the connection for the first time with the reality of it having been Luciana's photograph that Sharman's child had come back into her life through.
It wasn't until that moment, that the photograph itself took on any significance for me. Until then it had just been one of the many pictures on my website, I hadn't given thought to its origin, or content, over any other picture there. It was just another random snap on my website, or so I had believed.
The cd itself, a somewhat haunting series of melodies, arrived a couple of days later, delivered to us whilst Charlotte and I were in the Troubadour coffee bar. When Charlotte first saw the picture on the disc she exclaimed how she had the postcard of that same painting on her kitchen wall. I said nothing, recognising that I had its original, and also hanging on my kitchen wall. The painting that I hadn't really wanted, that Chelita had chosen for me.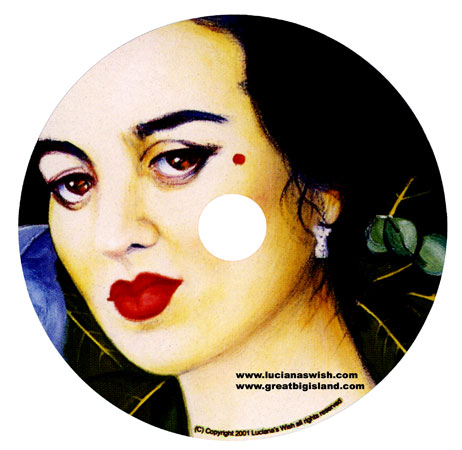 Luciana's Wish cd, music by Paul Cantelon, Lili Haydn and Martin Tilman.

From my receiving Luciana's photographs only after Chelita had died, to choosing a snap of Ulla from amongst them, it was coming full circle back to me, the self-portrait that I now owned on the cover of someone else's tribute, arriving in my life, at the same time as the lost child was re-connected with its mother. Strange chance and stranger still was to follow.
Sharman on hearing of my 'Luciana's Wish' disturbances emailed back that I couldn't begin to know how bizarre it really was. I had spelt her name incorrectly, the reason she hadn't been able to find the photo on my site when she'd looked for it. And so had her son, he had the wrong spelling too. If either one of us had the correct one, then the connection wouldn't have been made.
But Sharman only knew the half of it. Not only had I put an 'e' in the middle of her surname for almost thirty years, I had sent her letters, postcards, invitations, even stayed with her in L.A. twice, always getting her surname wrong, but I had done the same to Ulla, the other woman in the picture, and for as long.
Only Ulla, who the picture was chosen for in the first place, had seen it on my site and noted the mis-spelling of her name, I put an 'e' where it should have been 'o' (Larsen instead of Larson) something I had also always done, and she made me correct it. Sharman hadn't seen her name, and so it remained mis-spelt for Jeremy to find, Fate, being the word he used, even before these spellings came to our attention.
And fate proceeded to get still more curious. Sharman had emailed how writing back to him was the hardest ever letter she'd had to write. Jeremy emailed me that her reply left him feeling that things couldn't be better. They were in contact now by letter, email, and telephone. There was still the subject of Joe, the father, to deal with, which meant our not telling this story to anyone until Jeremy was ready to take that step. And meanwhile he and Sharman still had yet to meet. This was planned for sometime around the end of August. Before that there was yet another twist in this tale to happen from the 'chance surf' as Jeremy referred to it, that for him started all this.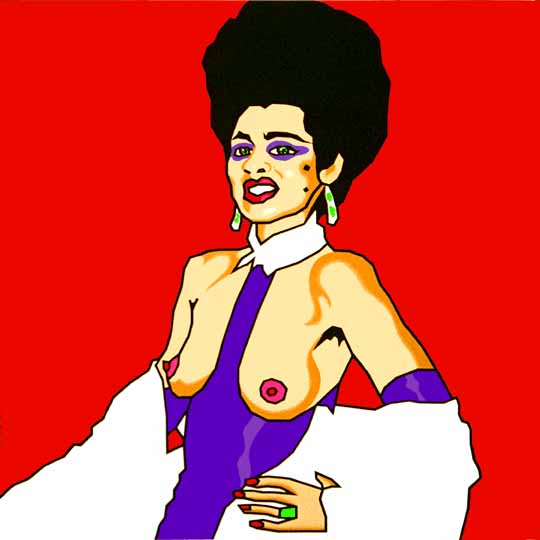 In May, I invited him to an opening at the Westbourne Studios of an exhibition where I was showing amongst other pictures, my larger-than-life red portrait of Luciana in her Alternative Miss World premiere outfit. I had started this painting a year after her death, and it had proved very difficult and emotionally upsetting to do. This was in fact the second portrait of her that I did, the first having kind of just happened. When she died, I bought, with a great deal of indecision as to whether I should, my first computer with money she left me. Having never bought a home or a car, it became the single most expensive purchase I had ever made.
At first my intention was just to archive the past, and perhaps create new collages on it. I had been doing collage for years, but was not happy at cutting up wonderful old books and magazines to make them, though of course I did. Starting with an incomplete collage that I had for sometime, the figure in it was Brigitte Bardot, I turned the body into a drawing, using the same techniques on the computer, at least as close as I could, that I used in my normal drawing process. On seeing the face I had thus drawn enlarged on screen for the first time, I realised if I turned the hair from yellow to black, and added a beauty spot, that the picture looked exactly like Luciana.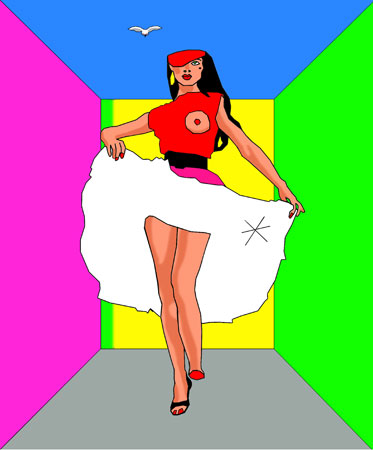 It was as if she had popped out of the computer demanding to be painted, which I did, in a near life-size version. The second portrait hadn't been anywhere near so easy, and it was in front of this painting at the opening, that I encountered Jeremy and my niece Sara.
The shock of this evening was not just that they knew each other, but that they had known each other for so long. They were a part of a group of school friends who had hung around together for most of their teens, having only drifted apart in their twenties. It was obvious to see their affection for one another, though each was somewhat amazed to see the other at my opening.
Jeremy hadn't associated my surname with that of my niece, I spell mine differently, having added an 's' on the end many years ago in frustration at having to tell people it didn't have one. When she explained our relationship, he was more than taken aback. At this point he hadn't told anyone of the events that were transpiring in his life, until he told all to her that evening.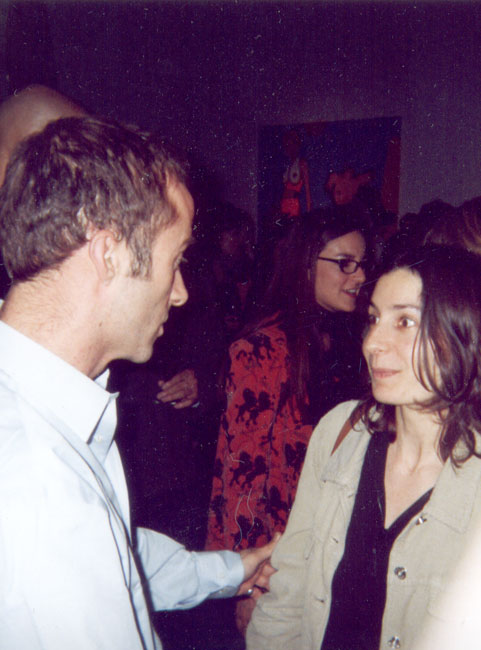 Jeremy & Sara at the opening. I gave my camera to someone for the evening, and later found this picture on it. The woman behind them just happens to be wearing a fabric designed by Charlotte in the early 1970s.
When I saw their connection, I also was somewhat amazed. I only have one niece, the daughter of my one brother, Howard. Sharman had just written me that I had become like a surrogate Uncle to Jeremy, in fact, as far as he was lost to Sharman, all that time he was really so close to me. Standing in front of Luciana's portrait I started babbling to him about her maybe role in all this. Who should appear as I did so, but Simon Doonan, friend of Luciana, Sharman and Joe, over from New York, someone I hadn't spoken to in some time. What he thought, I don't know, as I mumbled hello, that I would talk to him later, though I never did get the chance. I was sure he'd heard the names Sharman and Luciana, but couldn't introduce him, the situation being kept as private as it was. That was to change shortly, thankfully, and brought about by yet one more coincidental chance encounter.
This is where the next woman comes in, another friend we all had known through the years. Gaby Longhi had lived briefly in my Earls Court apartment in the early 1970s, when she had been a model based in London. Returning to New York, she worked as a fashion editor on both Glamour and Vogue magazines. On her marriage there, she came back to London to live, leaving a rent-stabilised apartment in New York that was taken over by Joe Gaffney and his wife Anne Ogden when she left. It was to be our running into Gaby unexpectedly, that was to prompt Jeremy to allow Sharman to at last tell Joe about his re-appearance in their lives.
Sharman had come over to England eventually in August and met with Jeremy finally. The first two encounters went extremely well. On the third day she arranged that we would all meet up for lunch. Charlotte, Jeremy, Sharman, her husband Chris who had travelled after her, and myself. Sharman chose the Electric Brasserie on the Portobello Road as the location for this. Arriving first I was confronted by the sight of Gaby and her husband Lee sitting almost in the entrance.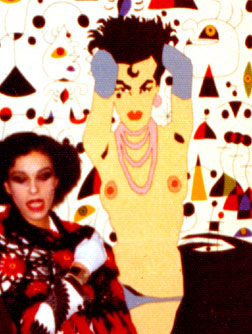 Gaby, 1974
Stunned, I didn't really know what to do. We had not seen each other for some time, though Gaby and I spoke often on the telephone. Not telling her had already been difficult enough, she was someone I regularly talked about my life to, and it was a story I so much wanted to share some of the excitement and curiosity of, especially with Luciana's friends – Luciana had painted portraits of both Gaby on her own, and with her two daughters. With the imminent arrival of Charlotte and Sharman, also both of whom Gaby knew and hadn't seen in a while, let alone of the others, I couldn't see any reason why we all normally wouldn't be expected to sit together. Only this wasn't normal. Faced with not wanting to lie, and no easy instant excuse, I blurted out the truth.
Rapidly I relayed how Sharman was arriving with her son by Joe, how he had found her through my website, and how they couldn't say anything to anyone, especially Joe, as Jeremy wasn't yet ready to contact him. I didn't know at the time Joe's wife Anne was in fact coming to stay with them that very weekend. They were all eyes as the others walked in.
When we were seated at another table further inside the restaurant, I announced how faced with the situation, I'd had to tell Gaby and Lee but insisted they keep it to themselves. Sharman had already asked Jeremy to let Joe know. From this unforeseen meeting, he now decided that it was indeed time Joe could be contacted as well, realising that keeping the story quiet for us was something that had implications he hadn't considered. The circumstance of this unexpected complication led him to the point where he felt that obviously it was the right time to make the next connection. Sharman was to make the first uneasy contact with Joe. Jeremy followed this up by letter, phone, and eventually visits to New York. Now father and son too are slowly building their own on-going relationship
Coming back to England just before Christmas that year Sharman telephoned me and we had a marathon conversation about it all. The random choice, the chance encounters, Luciana's wish, mis-spellings, bizarre connections, the nature of friendships, death and destiny. All in all, a somewhat uplifting, and inspiring conversation. At the time I had a raging fever and had been housebound for ten days with the worst flu.
As part of the conversation I had recounted how I had made copies of the 'Luciana's Wish' cd for them all. We arranged that she and Jeremy would visit me together in the New Year, and I planned to give them then. However after the call had ended, I looked for the copies and could not find them anywhere. I did find the original though, so instantly set the computer making copies for the second time.
As it was the last shopping day before Christmas, I decided that I absolutely had to go out, whatever I felt like, not just for the final opportunity of buying gifts, but also for the sheer necessity of getting food. Walking feverishly up the road to the shops, I was thinking how I wasn't sure I was really up to doing it, that I really should have stayed at home, when a woman started calling my name from across the road. I didn't recognise her, and she came rushing over to greet me. 'I'm Natasha, Luciana's niece.' she announced.
Twenty years earlier maybe, I had met her before only once, when she was eleven or so, and now here she was sitting in the Pizza Hut on Earl's Court Road, of all places, with her mother, the woman who had married the brother of Luciana, the one that Ulla, having been in love with all those years ago, had come to England for. And I was making copies of 'Luciana's Wish' the second time around.
Natasha's sister Malaika had been adopted into the family, and remained always Luciana's favourite. She maintained that being adopted meant the child would inevitably never receive enough love, possibly a somewhat contentious sentiment, but hearing that in fact Malaika, who lived in Paris, was currently in the deepest depression, I rushed through this story to her sister, in the hope that she might draw something positive from hearing it.
Connections. Connections. Connections. They echo through one's life. Whatever the rational mind makes of this, these events happened to me in this way. The extraordinary chance of the seemingly random choice of an image, and its repercussions in the lives of others, the nature of fate, the illusion that we are finite beings, the intertwining of lives and destinies, all are included in this history.

with John Maybury, Luciana, Johno du Plessis, Sharman Forman, Gaye Sandler, and Charlotte Barnes c1976
Luciana's dearest wish perhaps had become that one day she might have a child of her own. This wasn't to come about in her lifetime, nearly so on one sad occasion, and perhaps the memory of this loss, and the broken relationship that went with it, haunting her, had been the reason she re-located her life from England to America, so suddenly, when she eventually did.
Who really knows about cosmic intervention, or otherwise? Is it my wish to believe, to make something of a friend's absence, or some kind of pre-destiny? I am neither believer, nor devout sceptic, but I do know when I get shivers down my spine.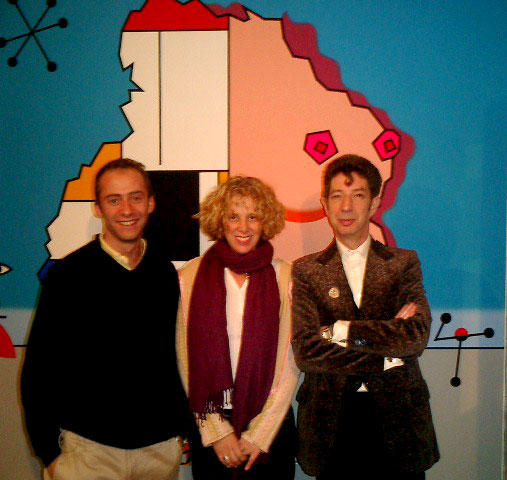 with Jeremy & Sharman, in front of my 'Tree of Life' painting.
Sharman and Jeremy did come to visit in the New Year. They sat either side of the screen, holding hands, intently reading the emails I had kept, first from him, with my replies to them, then from her, as she received the first contacts with him in over thirty years, and the mail that each sent me as their connection progressed, before they were to actually meet. They intensity of emotion was overwhelming, and I had to leave them on their own in my room, with my computer.
The tool that I wouldn't have gotten if it wasn't for the money left to me by Luciana's will, that enabled me to buy my first so changing vastly the horizon of my working life. That in turn, allowed me to make a Website, in order to place a photograph on it, one of her photographs that only came to me through such an unpredictably tortuous journey, that would later re-unite one of my only niece's friends with the birth parents he had as yet to discover in his adult life. Out of unexpected pain coming perhaps unexpected joy, or at least something close to it.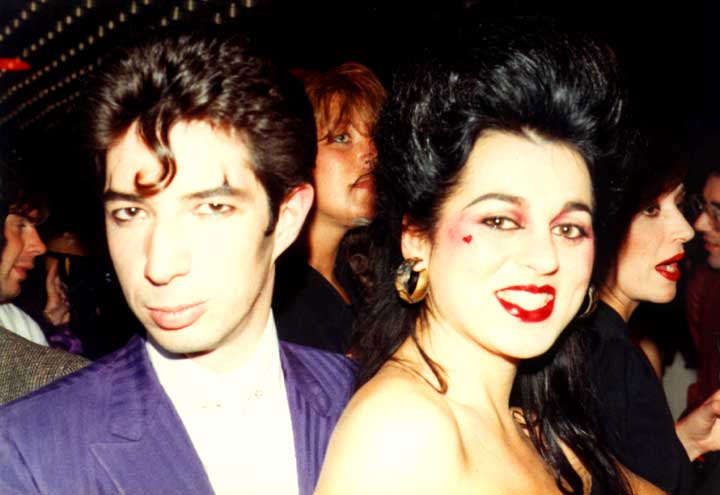 with Luciana c1980

I'm listening to the haunting melody on piano, cello and violin of 'Luciana's Wish' at the moment of finishing this account, in the kind of home in Italy she had only been able to dream of, for us to live in, in later life. The wish she was never able to share. It's pouring with rain outside. It feels like someone else is shedding tears, and I'm having those shivers again.

Duggie Fields, 2005